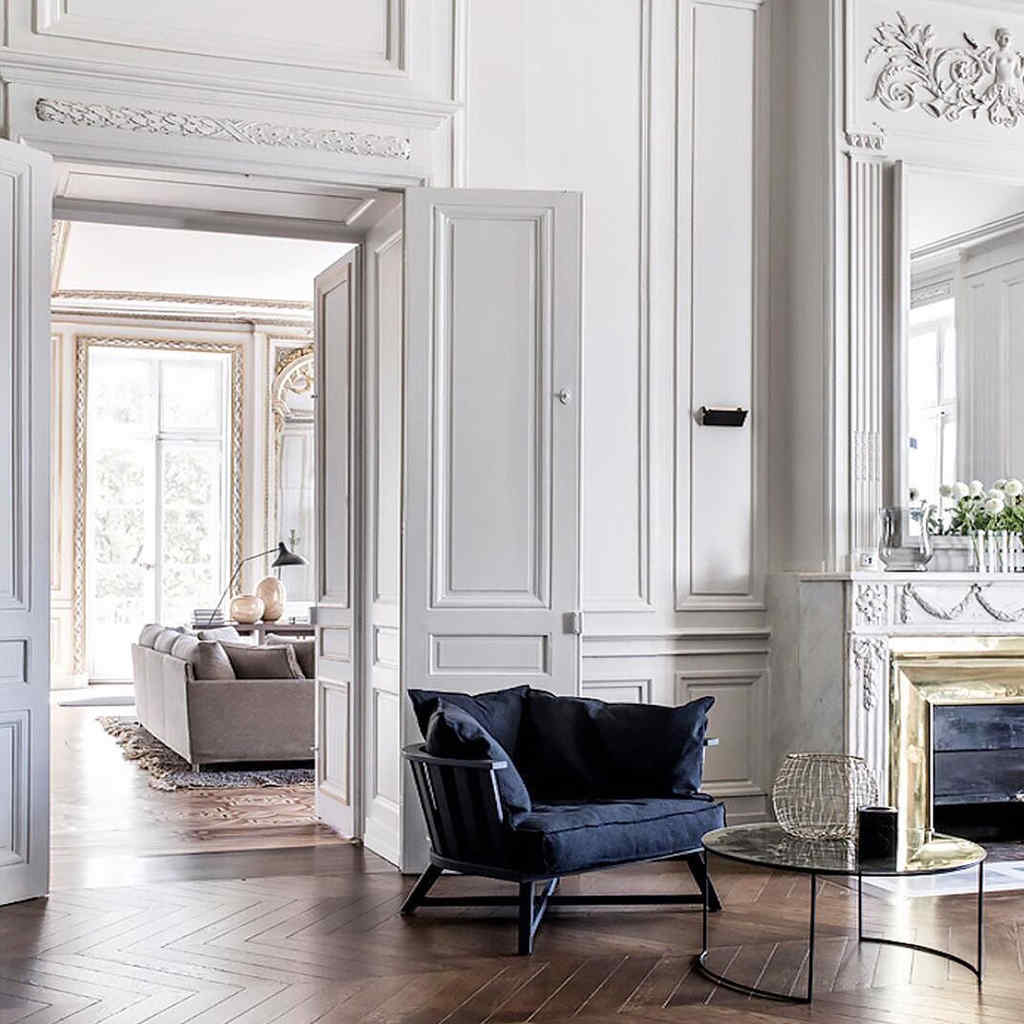 French design has been around for a long time. In modern times, things have become more simple and minimal, so styles with textures, ornaments or patterns have become less popular than ever. At some point, running away from simple and modern lines, designers realized that it is not always possible to reflect your own style by ignoring important design approaches like French design.
French design ideas are based on a rustic design, but simpler and more elegant. The thing that has made French style of interiors more attractive recently is cases in which that traditional French style is interpreted with a modern approach.
The main aim of the French style of interiors is respecting the story, tradition, and craftsmanship of items by giving them their deserved value. The French style supports general simplicity while encouraging ornamentation of things that have previously been hidden. Instead of replacing everything with newer versions, this style supports the reinvention of the interior elements, furniture and materials. The main keywords behind this style are harmony and the balance of old and new.
What are the main features of French Design?
The representative colors of French design are generally pastel colors. It is not common to use bold colors, especially on the walls. The main color of this approach is white. As white color can refer to many different tones, choosing the right white is important for this style. The yellow-based light, which is warmer and creamy with a slight dose of pink, is exactly the right white for French Style.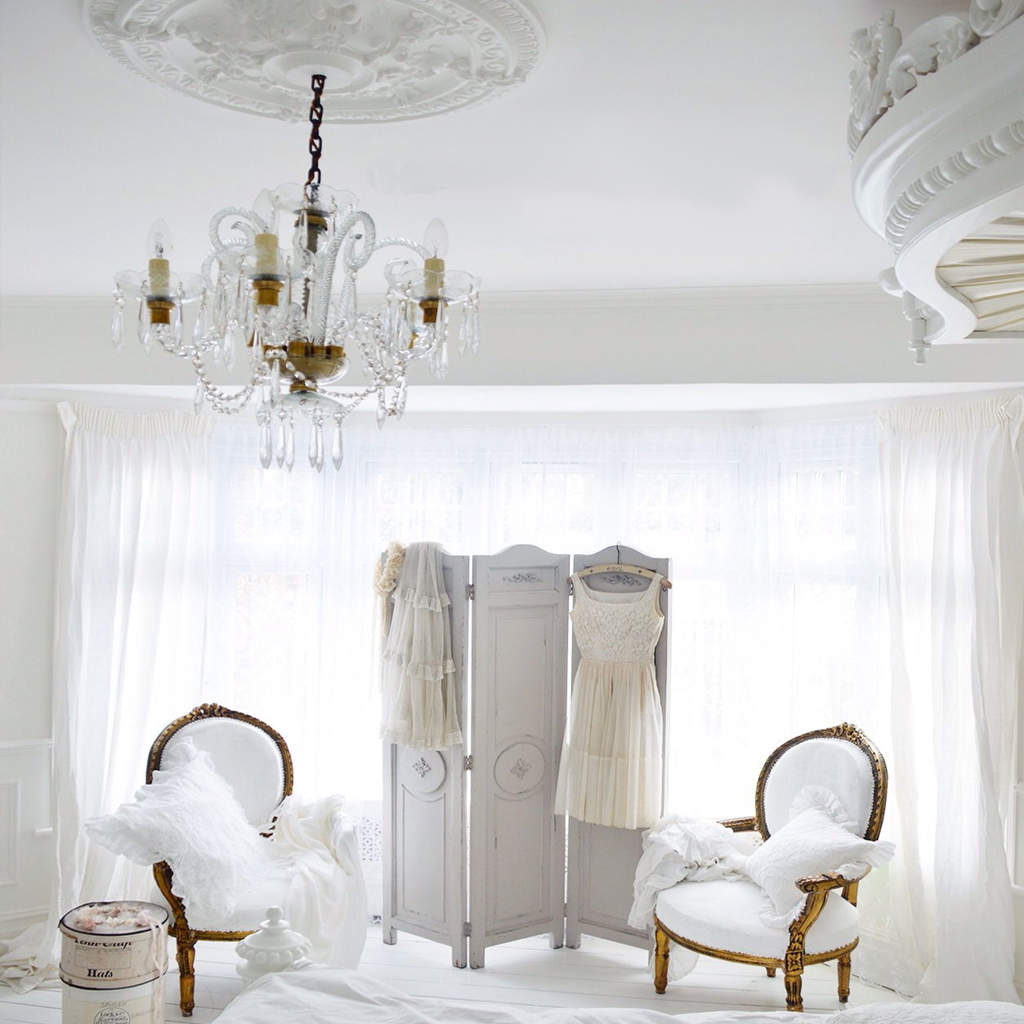 When it is supported with the natural lighting, the yellow tones create a romantic interior. Pastel tones and cold colors like blue and green will create a soft contrast that balance the style.
In French design, the interior must have its own identity. The determining property of French-style interiors are the high ceilings. The architectural details, especially handmade details, are important for French interiors. The cornices, wall paneling and plasterboards are the details we encounter the most in whitewashed walls. The lighting arrangement of the interior should show off what your interior has! So be sure that your lighting highlights the molding details of your interior. The long curtains will also show the real height of your apartment.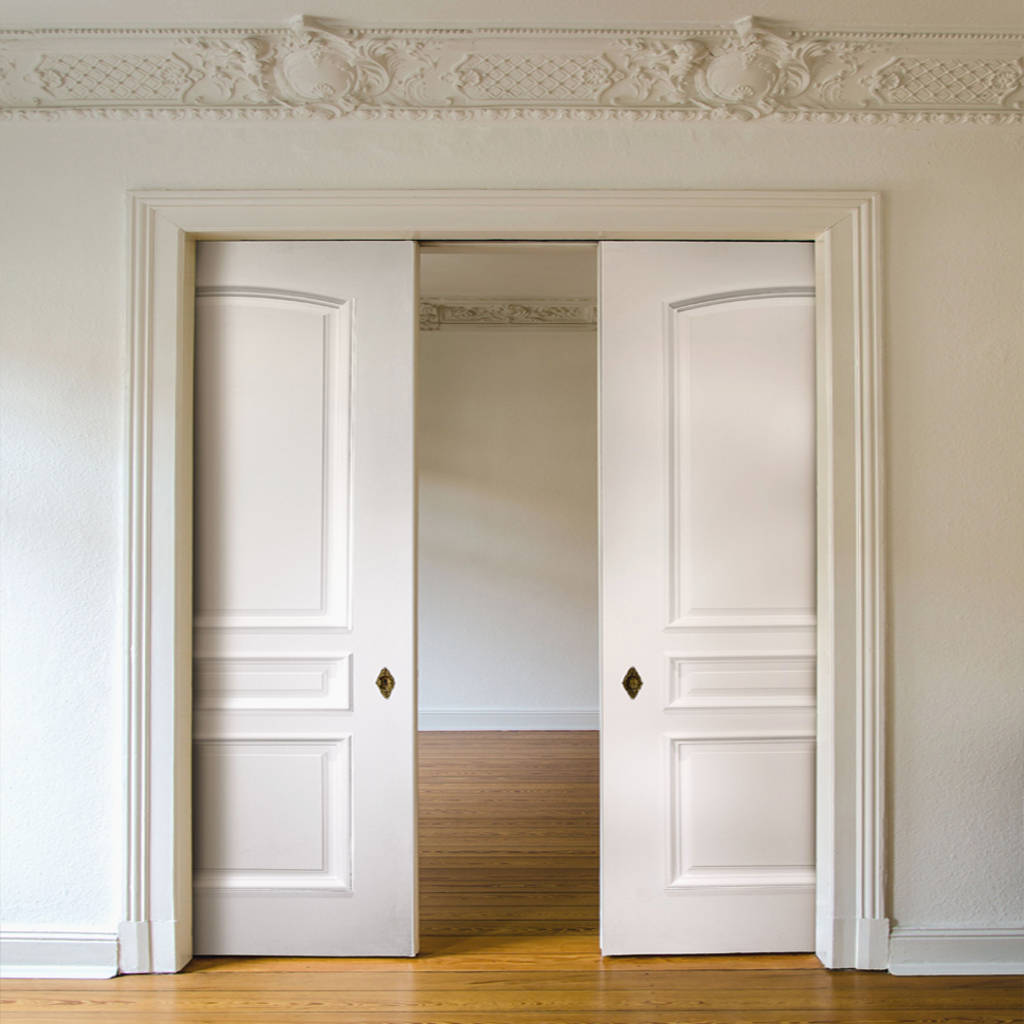 To display the real identity of the French style, it is important to catch the real balance of the furniture and the empty space. As the architecture details lead the interior, not covering the walls with accessories or the other stuff will be the right decision for French style. This is the minimalist perception of the French style of interiors. Fewer things, but more valuable things.u00a0 Follow the Coco Chanel quote: u201cSimplicity is the keynote of all true elegance.u201d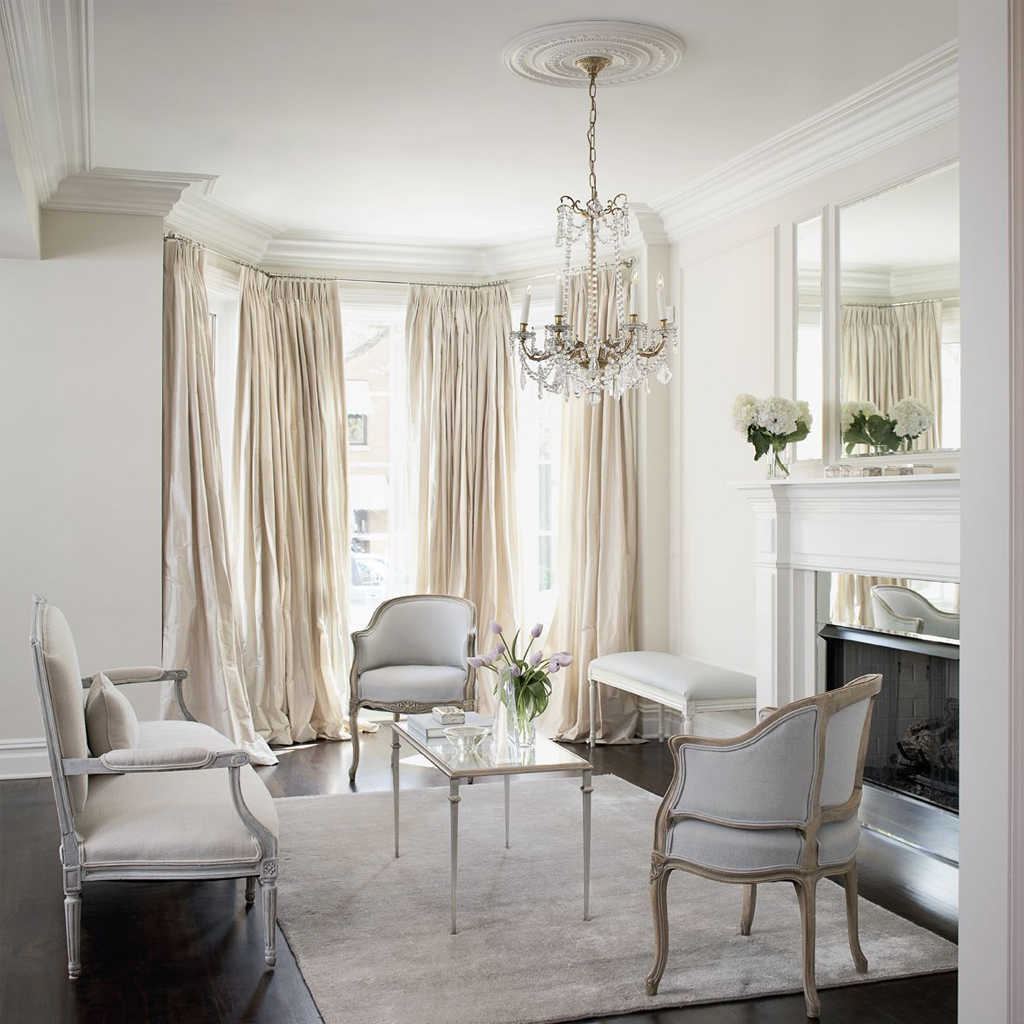 For the floor, parquet is the most common choice. Choosing hardwood flooring and having the real texture of them is a French move for your interior. Area rugs can be used, but wall-to-wall carpets will be wrong choice for this interiors; you donu2019t want anything that will cover the real features of the interior.
The French style is not about having the newest fads. It is about the value of the items. As we suggested to maintain the identity of the interior, same approach should be taken with the pieces. It is not always possible to gather these valuable pieces next to each other, and creating the balance between the new and old, trying to bring our old things back to life will be right move. With the right lighting and different combinations, there is always a space for the old pieces.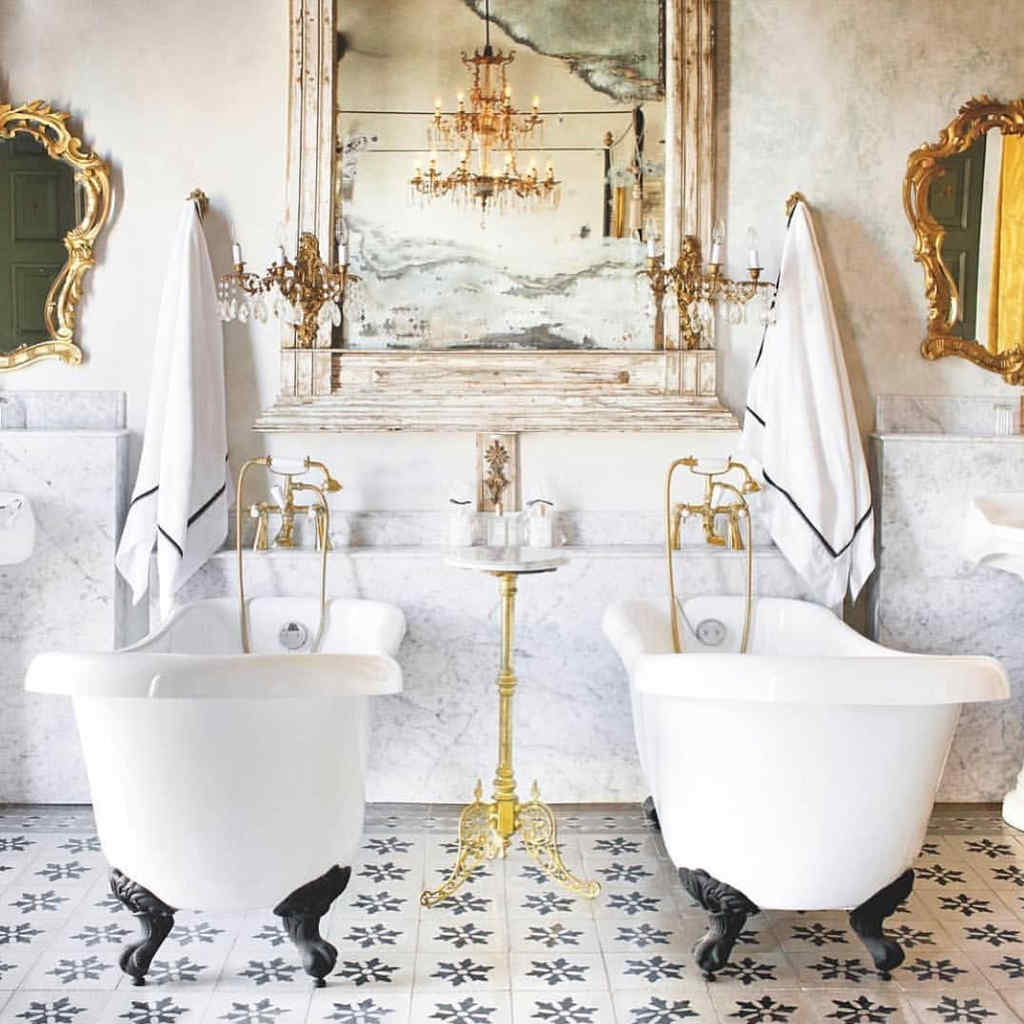 Covering the old furniture and trying to fix pieces to make them look newer is wrong for French design. The approach is not to change old items but to regard the design, material and story that the piece is made up of.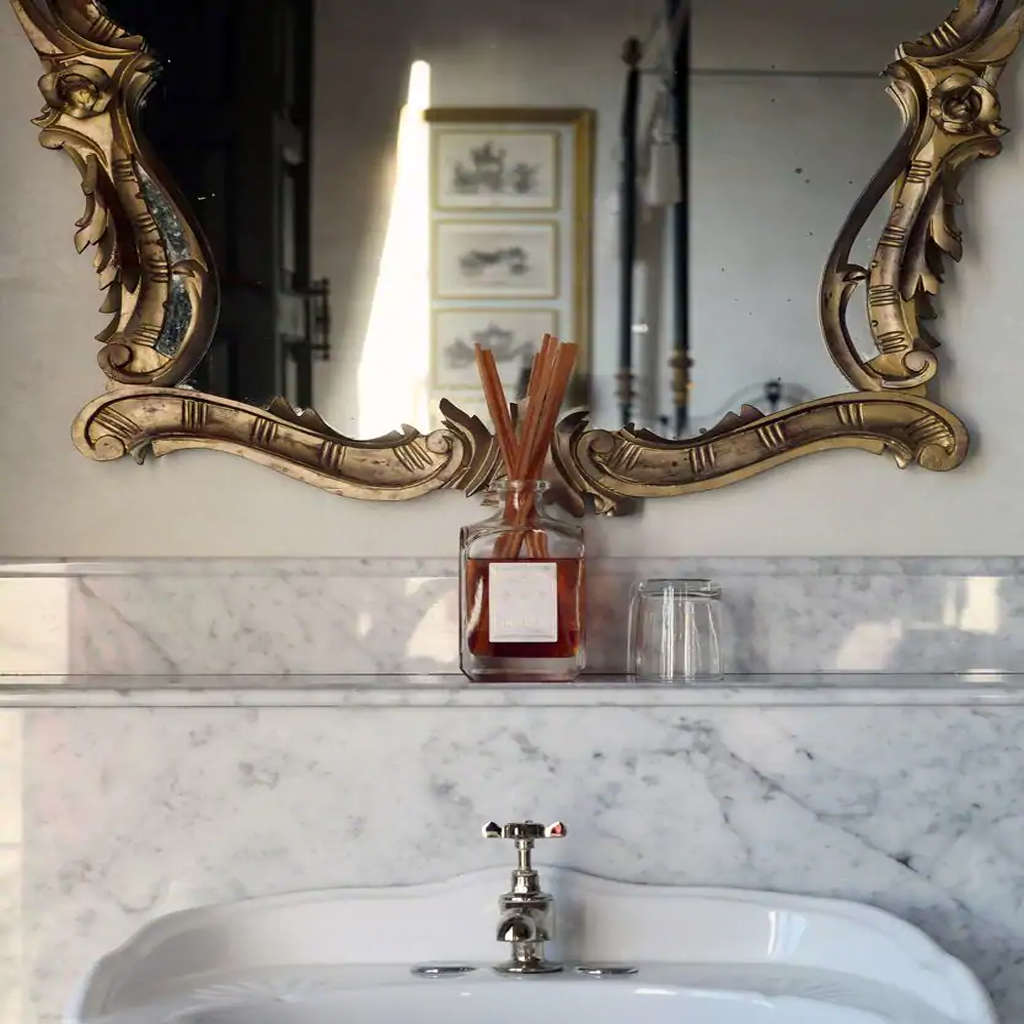 The little details and last accessories are what shows the real French interiors. You can dress up well, but you are never ready without precious accessories. As for the rest of the interior, the accessories you choose should carry the same values. Unique, antique pieces will complete your French-style interior. A shiny diamond-like chandelier in the ceiling as a single piece can enchant your interior. A gold-plated mirror with ornaments on the wall, a large wall clock or even a single brass shiny accessory can catch an eye and give that feeling. Even an unknown bust can give character to the room.
What is the difference between French provincial design and French country design?
French provincial style was mostly influenced by the design of houses located in southern France. They represent this style by balancing rustic elements with elegant baroque details.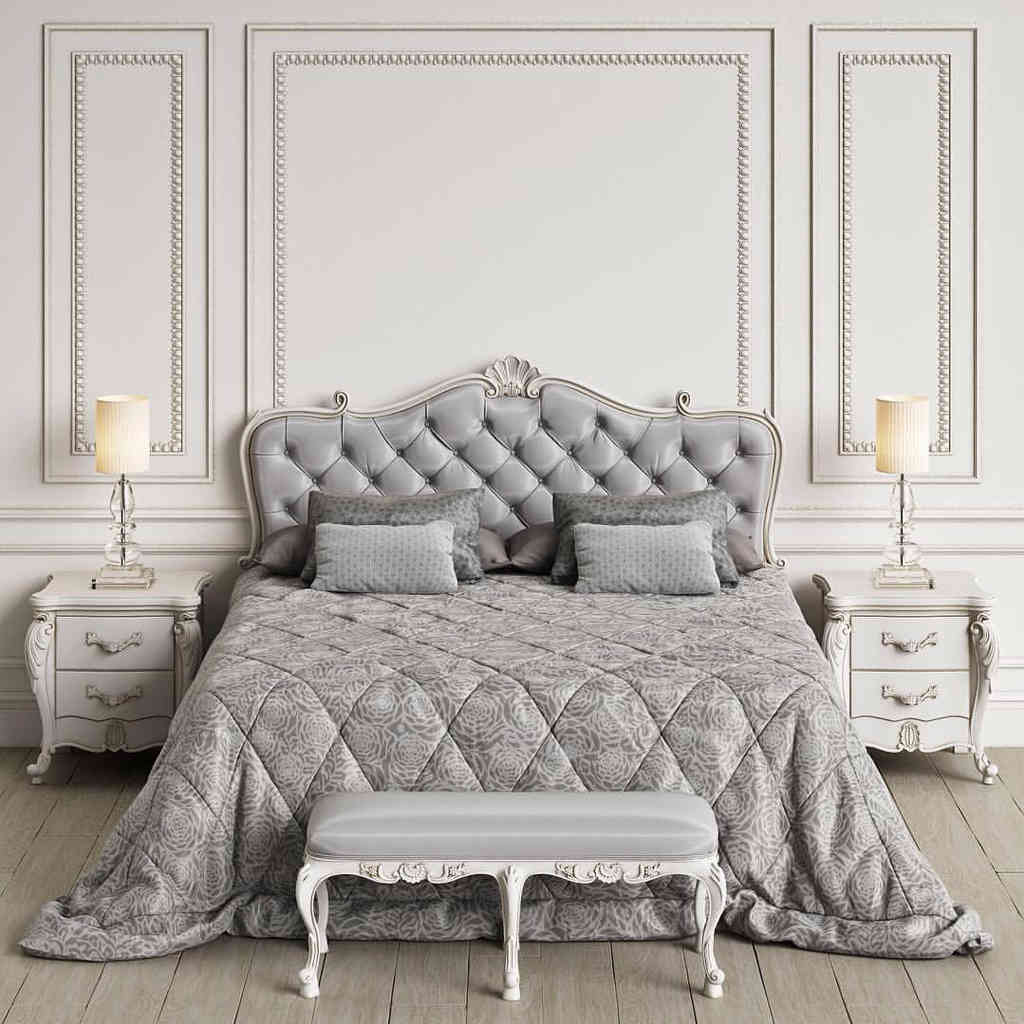 The French country style comes from country houses in northern France where the summers are mild and the winters are strongly felt.
The main difference between French design and French country design is perfection. Country design is closer to nature, so natural elements are the general aim of country design. Despite French design, the distressed and defected materials, imperfect edges are more welcomed for country design. For both interior elements and furniture, the old look is glorified.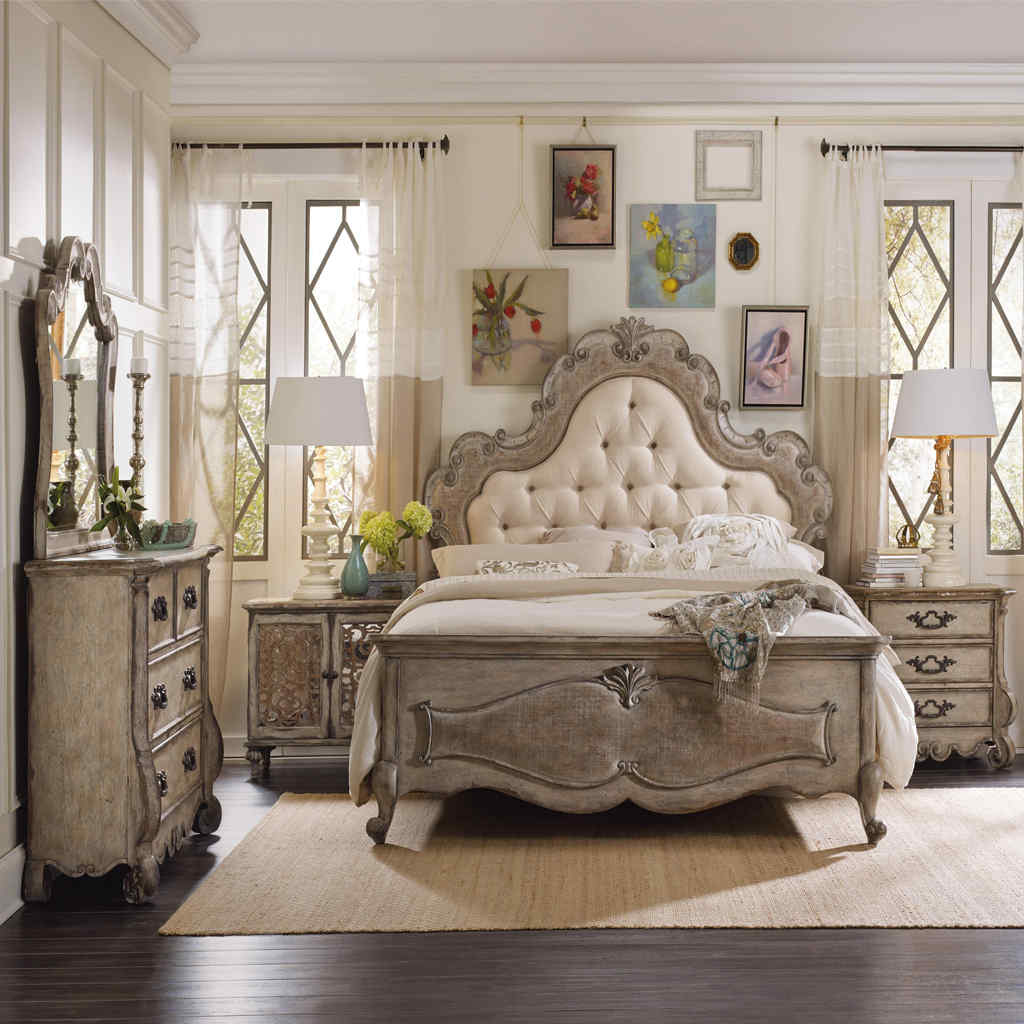 They both represent elegance for interior design. They are both protective of natural materials and minimal look in general but include ornamented and detailed furniture.
What do we need to design French Bedroom Style?
Stick with nature! French interiors are the representation of the past and nature. Anything close to nature is accepted here. So metals, bold colors or monochrome tones do not belong in French bedroom design. Everything that is close to soil colors will give a warm and more relaxed atmosphere to French interiors. The typical French bedroom consist of the contrast between furniture and the color. The antique and wooden furniture is always exhibited with lighter background walls.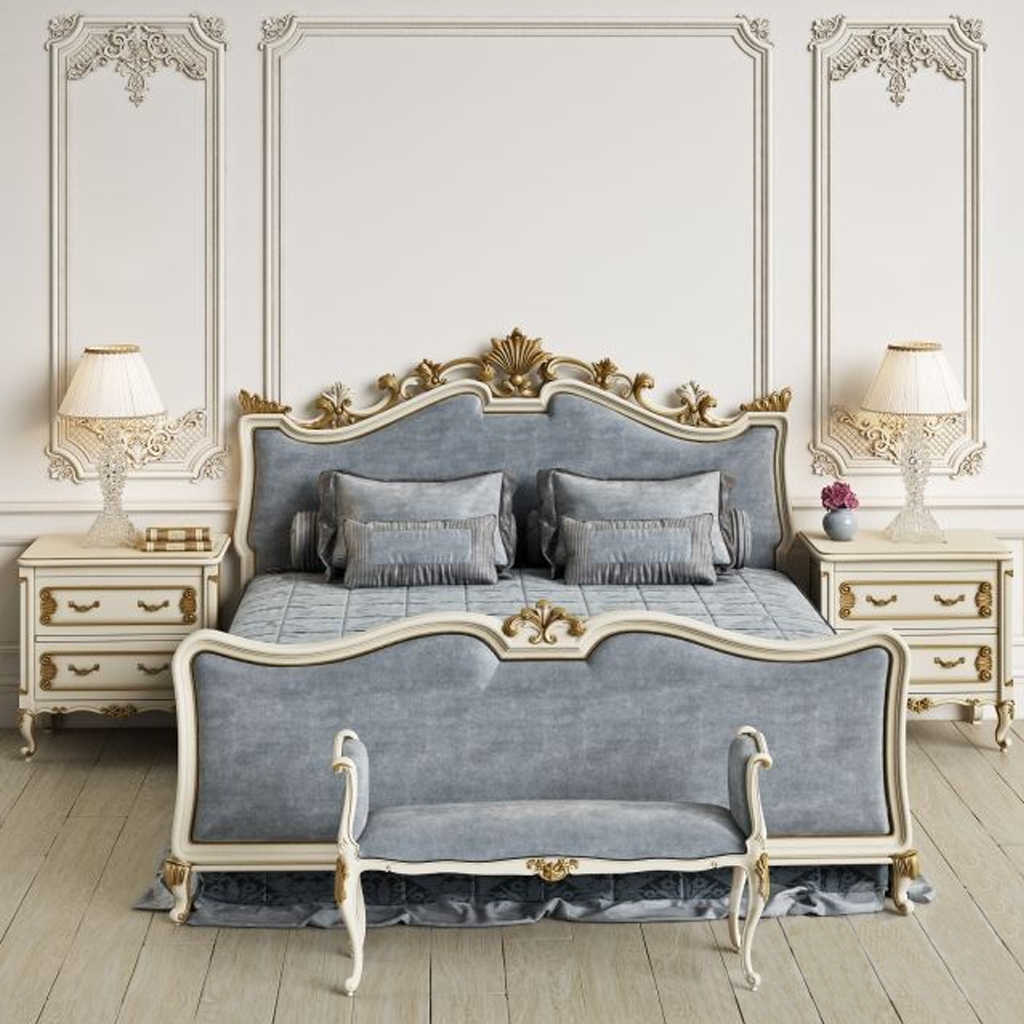 To have French country bedroom design, you can choose some tones that are close to earth, such as a burnt brown containing red tones. These are mostly used in the natural wooden furniture or wood flooring. Again from nature, pastel greens and very light tones of green are used for the walls or the brushed wooden furniture.
Closer to the effect of the sun, pastel yellow tones also work well with this style. Especially when in contact with the natural lighting, this will provide a warm and romantic interior. Another tone from nature is blue. A light blue from the tones of ocean helps you to bring a fresh feeling to your French bedroom style. To add some glitter, it is always suggested to use golden details, on the plaster, in some accessories, or for some fixtures. The right amount of gold can help you cherish your French bedroom.
French design is kind of a modern version of rustic design. So everything belonging directly to a modern design is not suitable for French interiors. Lines that have inspiration coming from the circular valleys of south France, flowing lines, natural materials and real defections are the things that truly belong to French design.
While hard materials such as wood belong to the French style, there are also soft materials such as textiles that should hold a place in a French-style interior. Cozy cushions and velvet upholstery with natural colors will complete your interior style.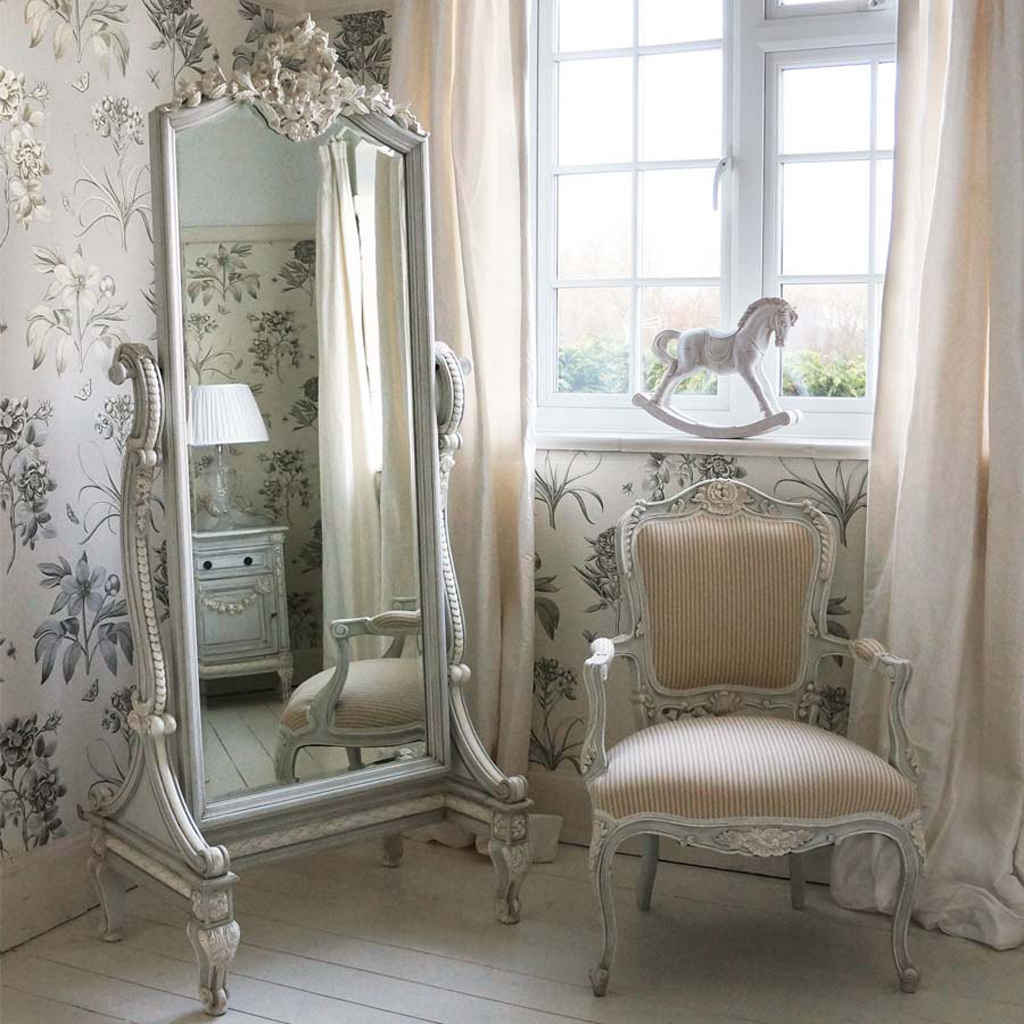 To get the feeling of French country bedroom designs, choose some materials like tumbled furniture that you can feel the real texture of, an armoire on the corner of the room, a vanity table and a ladder back chair with a rush seating, a big ornamented wooden bed between brass wall sconces, or rusted metal finish bedside tables will help you to create a general concept.
As French style follows nature in its colors, the same approach for nature should be there when it comes to the materials. Natural patterns, especially florals, are a significant sign of French interiors. Using them as wallpaper for a single wall or in the details such as cushions or upholstery will enchant your French interior.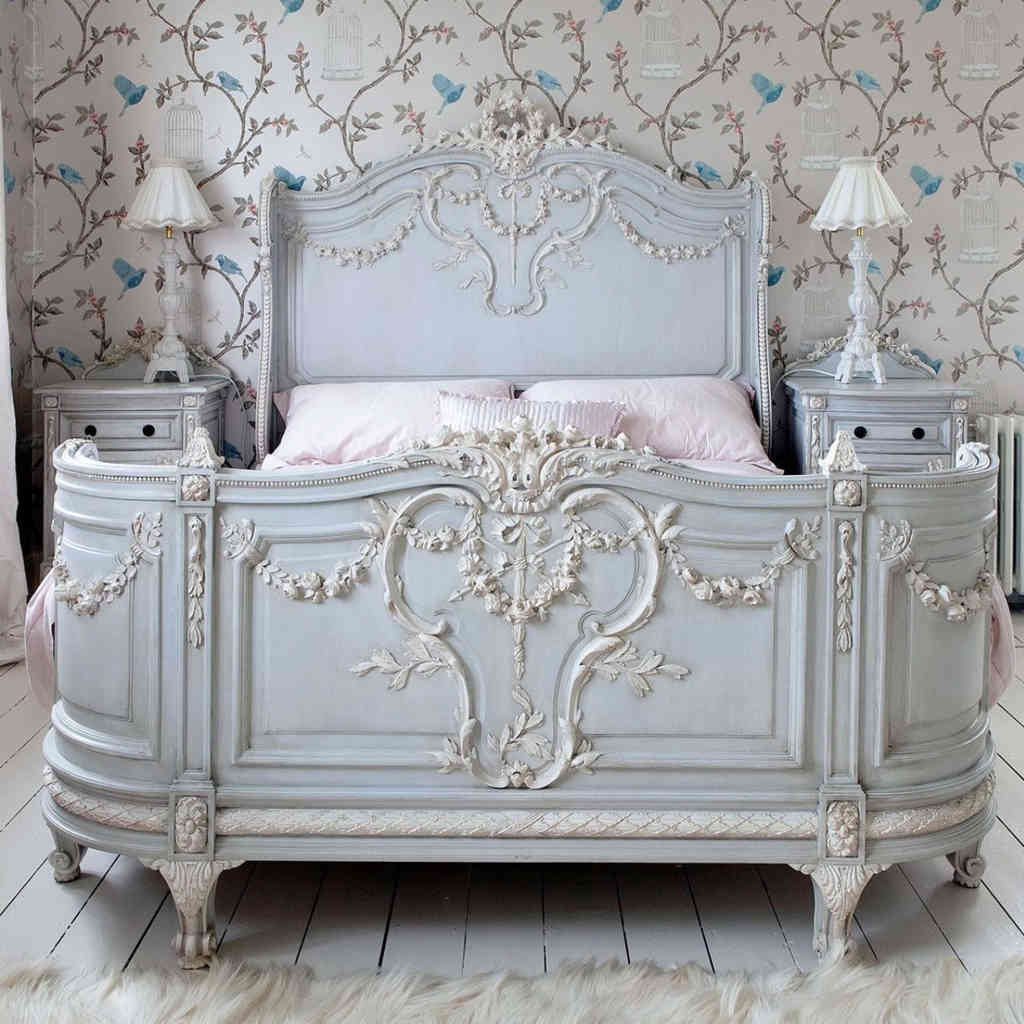 To feel the French style in every corner of your bedroom, you need to choose patterns containing shades of greens, violet and the warm yellow. The prints for wall papers or the textiles for the French bedrooms mostly consist of animal or plant motifs. You can use these prints for wallpapers, curtain panels, bed sheets, cushions and table cloths.
The patterns are an inevitable features of French-style interiors. To make the most of them, you need to know that warm white or cream-based toilets with contrasting motifs should be used in this style of interiors. These toilets can be found with different motifs such as animals or plants, and they are mostly found in cotton or linen. In addition to that, cotton rugs and bed sheets will always fit French bedroom designs.
Materials should be close to nature and not far away from reality, which means that French design welcomes all the defects of the furniture, given the meaning of used. Raw wooden interior elements, such as beams, timbers, detailed plaster walls with irregular designs, and framed walls are suitable for this design approach.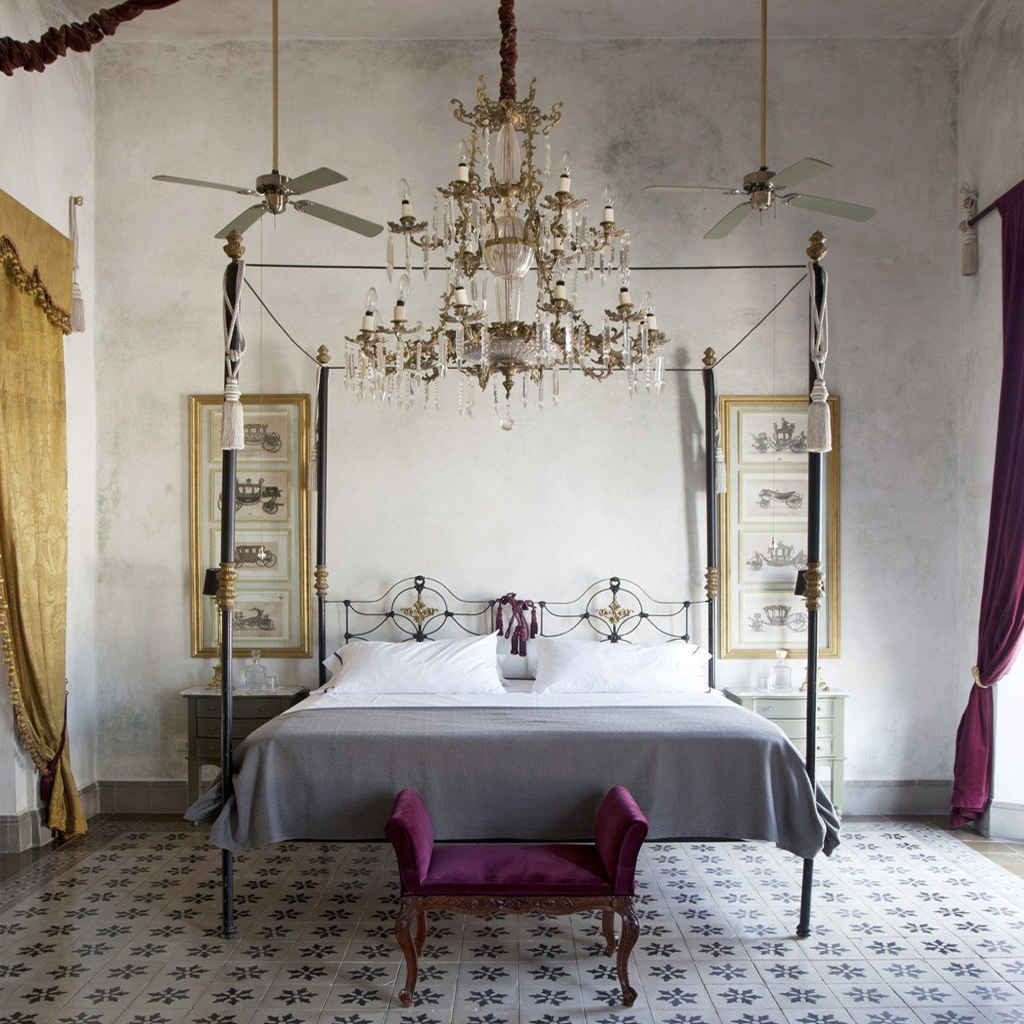 To be able to feel the most of your French provincial bedroom, you should select more natural materials. Both for interior elements and French provincial bedroom furniture, natural wood is the main material. Stone fireplaces are also welcomed for French bedrooms.
Light-colored plaster walls are the most distinctive property of a French-style interior. Old wooden boards and simple, natural fabrics can be balanced with iron or copper accessories. For French interiors, it is always about the balance. The balance of old and new, the balance of simplicity and ornaments.
The finishes and fixtures seem like little details for interior design, but in reality, the impact they have on the perception of an interior is bigger. To combine the old and new and balance them is the key of French style.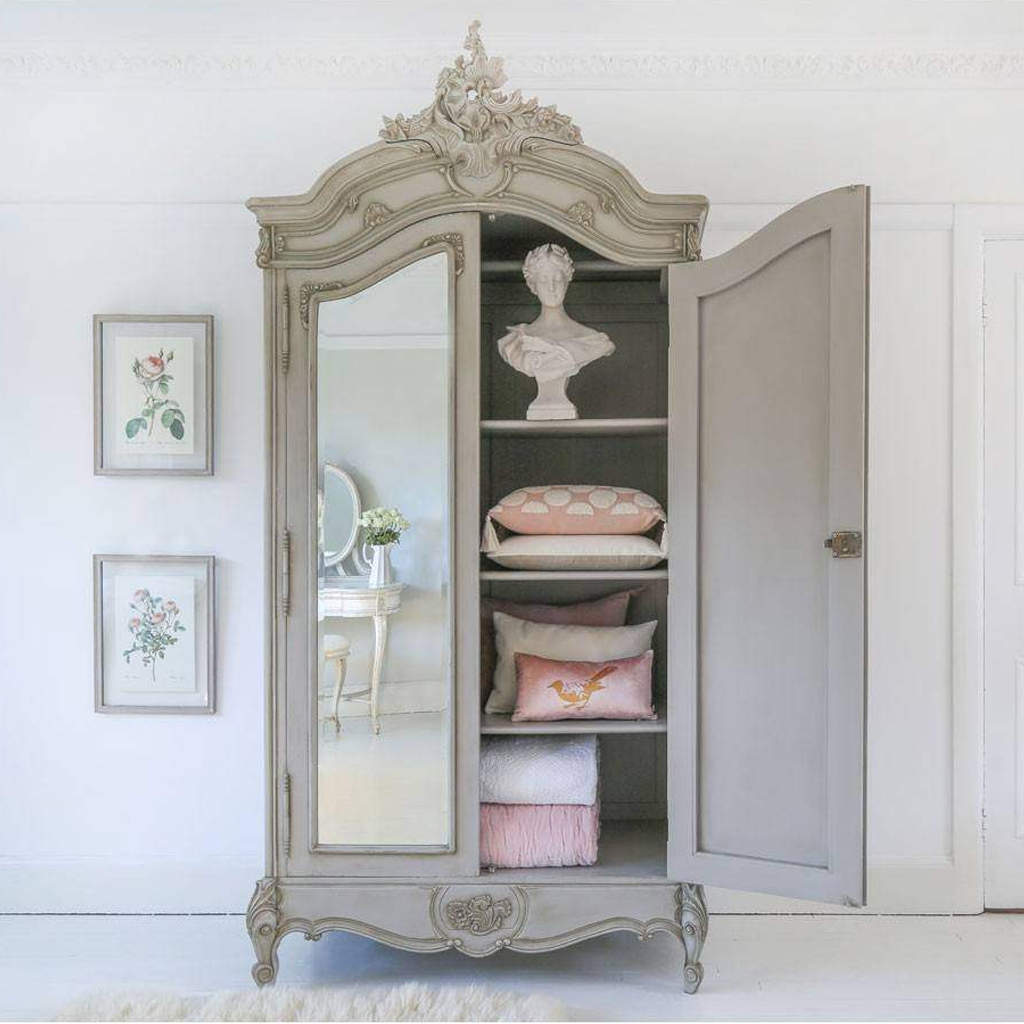 To make the most of this style in the details of your French country bedroom design, you can add woven baskets and choose a bed that is made from carved wood. You can choose sconces with shades that have crystals and hang an old painting on the white plaster wall. It is always a good idea to fill the interior with natural plants for a French bedroom approach. Completing the simple and natural interior with shiny and gilded accessories will help you create the real French style.
When it comes to the lighting of a French-style interior, similar rules are valid. Fluorescent lights or blue-white lights are never going to fit a French style of interior. Therefore, with the lighting, stay close to nature as well. Use warm whites as a color for your lighting. To create a warmer interior, dimmable lighting will serve you best. Don't be afraid to use different light sources. Sconces are the best choice for French interiors to bring the wall details in front. An attractive chandelier can be your star piece.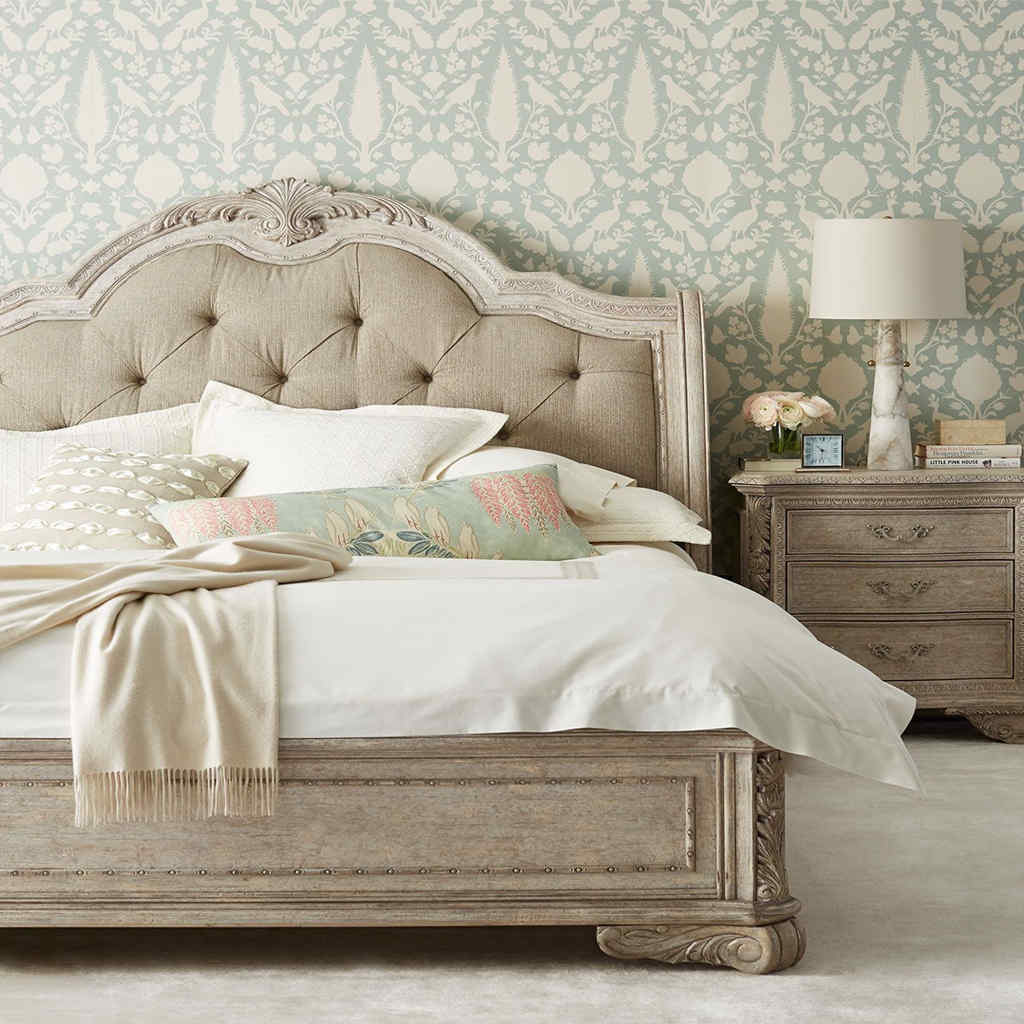 The lighting for French provincial bedroom design should be natural and romantic. Also, choosing a warm colored lighting arrangement for your bedroom will help you relax more and won't interrupt your sleeping cycle. Using natural lighting and creating a soft general lighting with warm colors as well as arranging sconces with shades for task lighting will help you to highlight your French Bedroom.
We have a lot more where that came from!