Every time you invest in real estate, particularly in overseas properties, you don't only invest in the specific house or piece of land because you also invest in the economy of that country and region at the same time. Istanbul is not only beautiful and rich in culture. It is also a wonderful region for real estate investment. There is a growing trend of investing in Istanbul properties, and now is the perfect time for you to jump aboard.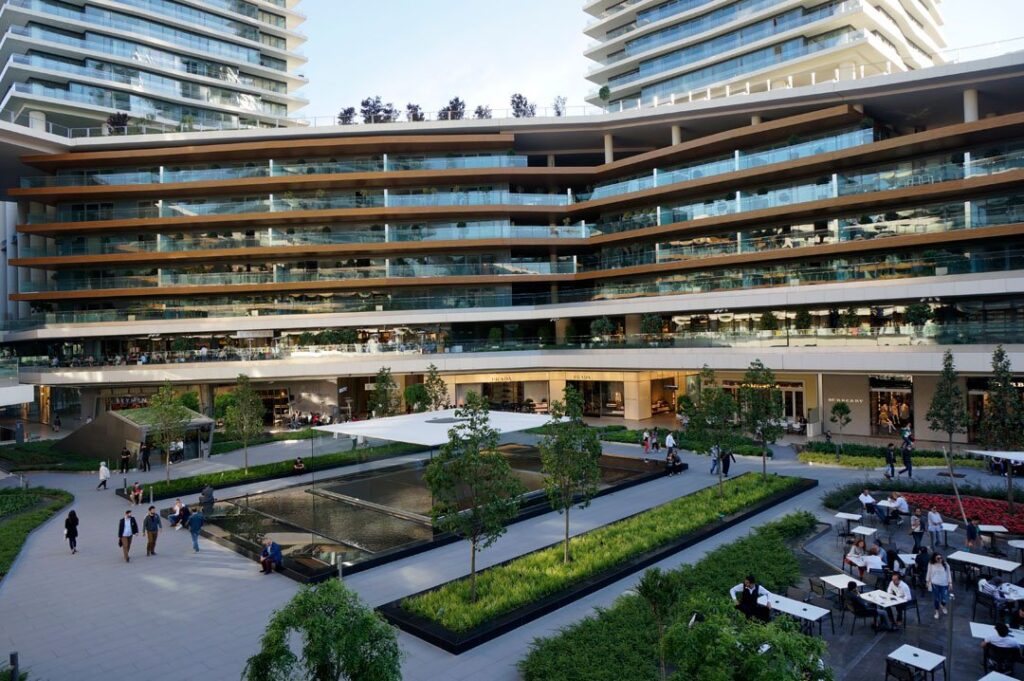 🇹🇷 Turkey is an interesting combination of West and East, and this is evident in the country's architecture. Properties in Istanbul range from Ottoman townhouses with intricate details to contemporary European-style villas.
Traveling across Turkey is a feast for the eyes with the unique architectural styles in different regions. Thanks to the surprisingly varied climate of Turkey, available materials are historically different as well.  Most houses on the Black Sea Coast and further north are constructed from wood. Homes in Central Anatolia, on the other hand, are made from sun-dried brick. Stone construction is common in the southern and western regions. 
Below is a quick rundown of the best and most common types of properties you will find in Istanbul:
Traditional Turkish houses of Ottoman type are not often up for sale outside Istanbul, but these can be seen around historic towns such as Safranbolu. These generally have two to three stories of wood and stone constructions. Ottoman townhouses tend to be more intricate if their original occupants were richer. 
A yali is a type of seaside mansion that normally dates back to the Ottoman period. These are among the most exclusive kinds of Turkish houses that come with high prices. A yali is usually rather spacious with gardens surrounding it with elaborate woodwork details along the gables. The central hall of a yali has a domed roof with a raw of bay windows. This fills the house with the sea's cooling breezes, most of which were constructed as summer residences. 
These are wooden houses specifically common in Black Sea region. Its traditional style is a simple detached house with two storeys. Many of these homes now feature modern styles with plenty of light thanks to their large windows. 
Seaside 🏖️ villas adorn the cost of the Aegean and Mediterranean shoreline. It is a quite an international style that resembles those you might see in Italy or Greece. Stone constructions are more dominant with outdoor spaces such as balconies where you can bask in the weather and enjoy the scenic views of the hilly regions. 
Probably the most common type of property in Istanbul, apartments are perfect if you are looking for a turn-key property. The lack of outdoor space aside from balconies means a lesser need for maintenance. Apartment buildings found in cities usually have shops or similar commercial premises on their ground floor. 
Penthouses are unique apartments located on the upper floors, usually in upper floors of skyscrapers
and high rise buildings in cities. Its primary is that outer walls of four sides are glass-made, offering a panoramic view of the city from high altitudes. The main feature of penthouses is that they extend over the entire building. Since there are no neighbors on the floor, occupants can enjoy complete freedom of luxury-like living. 
Share ownership apartments 
Also called time-sharing, it means that you will be the owner of the property for a certain period every year. It means that you can use the property over a specific timeframe. With time-sharing system, you will own the residential unit like a house, apartment, villa, or chalet. The property will be registered under your name for good, and you are free to use this for a set period every year. 
Homes with Bosphorus view 
The shores of the Bosphorus are probably the most sought-after place to purchase an Istanbul property. Most luxury houses found dotting the shoreline are preserved Ottoman mansions. But, even if the house is not a preserved Ottoman mansion, the fact that there is a view of the Bosphorus increases the valye of the property. 
Istanbul real estate prices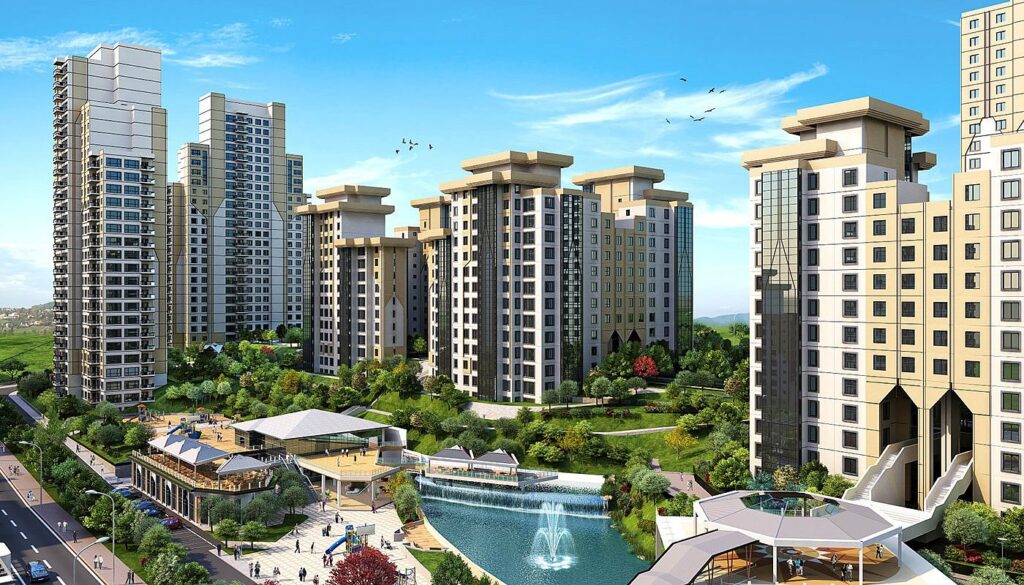 When buying an Istanbul property, you need to include the additional costs involved in your budget 💰. The actual price of the property will also have extra purchase costs, such as lawyer fees, taxes, notary, and other relevant fees. Legal service fees of translators and lawyers can differ depending on the professional you choose to work with. The rest of the official costs are set in Turkish lira so the amount of the currency in your home country will change based on the exchange rates during the time of buying the property. 
Desirable and premium districts include Uskudar and Kadikoy on the Asian side and Galata, Taksim, Beyoglu, Fatih, Sultanahmet and Besiktas on the European side. These neighborhoods can be found right in the heart of both old and new Istanbul, making them the center of tourism, shopping, and nightlife. Being central districts, the costs per square meter are also higher, and the lack of supply puts a halt on deprecation. 
If you want to get the lowest prices per square meter, you can check properties on the outskirt neighborhoods such as Beylikduzu, Bakirkoy, and Kucukcekmece that are still under development. However, if you are hoping for capital appreciation, you might want to be in it for the long term due to the abundant supply. 
Since there are different types of properties in Istanbul, expect that their prices will also vary. You can check and compare all the actual prices of Istanbul properties for sale at local real estate websites such as sahibinden.com and hurriyetemlak.com.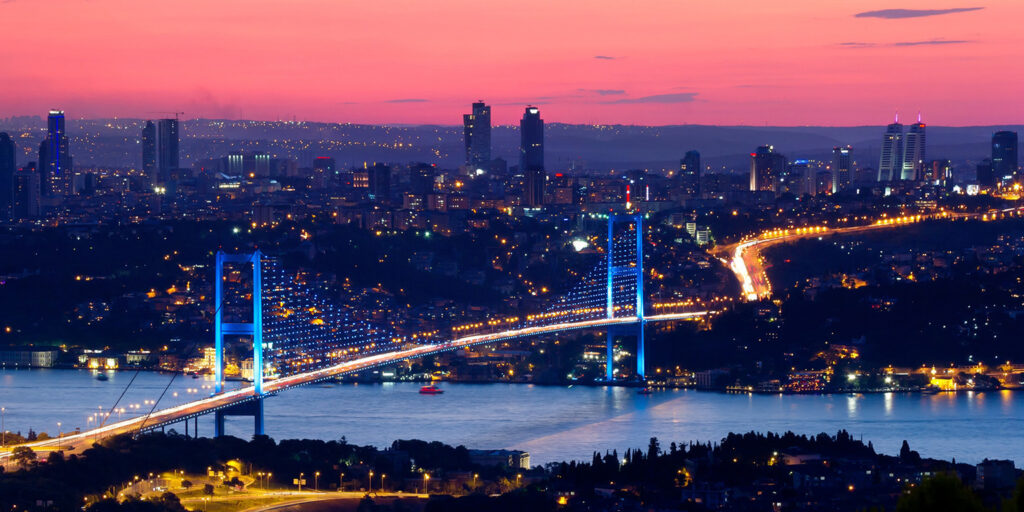 Istanbul has a total of 39 districts all in all that spread over the Asian and European sides to create a huge city that is delightful to explore and glorious in name at the same time. All diverse areas have something special to offer, such as a vivacious nightlife scene, amazing shopping options, and ideal family neighborhoods for homebuyers. 
Here is a quick overview of the main districts of Istanbul:
About 15 to 20 years ago, the Levent region was primarily an industrial area before it transformed to the most sought after office area among global office occupiers in Istanbul. This is the result of the growth of mixed-use projects on Büyükdere Street axis. Thanks to the Taksim-Levent metro route that went into operation in 2000, Levent enjoyed an increased demand because of the improved accessibility to the area. 
Etiler is the neighborhood found on Istanbul's European side in Beşiktaş district near the business quarters of Maslak and Levent. It is well-known for its high-end cafes, restaurants
, nightclubs, fashion shops, shopping malls, gyms, and coiffeurs. This is a favorite spot among the elite of Istanbul and has lots of private residences and villas. 
A quarter of Şişli district on Istanbul's European side, Nişantaşı is composed of neighborhoods including Pangalti, Osmanbey, Teşvikiye, and Maçka. This is a famous residential and shopping district and is among the most exclusive neighborhoods of Istanbul. 
This is a historic neighborhood renowned for its seafood restaurants and wooden Ottoman mansions. This is also where you can find the campus of prominent Robert College known for is centennial buildings. 
Bebek is another historic neighborhood in Istanbul that falls in the administration and boundaries of Beşiktaş district. It is situated on Bebek bay along Bosphorus
 strait's European shores surrounded by equally affluent neighborhoods like Rumeli Hisarı, Arnavutköy, and Etiler.
Istanbul's northernmost district on its European side is a large area with villages on the Bosphorus' European side. Thanks to its unique location, the district is also unique to investors and tourists alike outside and inside turkey because of its excellent characteristics. 
This neighborhood in Sarıyer is located on European shoreline of Bosphorus strait right between the neighborhoods of Kireçburnu and Yeniköy. This was the site of Pharmakia, an ancient town. Aside from the historical monuments, the district is also popular for its nightclubs, bistros, and seafood restaurants. 
Also called Yeni Kioi, this neighborhood in Sarıyer district is among the suburbs with a unique identity. This is a renowned residential area with yalis of famous and rich people lurking behind guard posts and high walls. 
This is a district found at the Bosphorus' northern tip of the famous Anatolian side. This is dubbed as one of the most peaceful and pleasant districts of Istanbul and most of the greenery in the area remain intact. 
This neighborhood lies on the Bosphorus' Asian bank and serves as the home to some of the in-city forests of Istanbul. 
Tips on buying real estate in Istanbul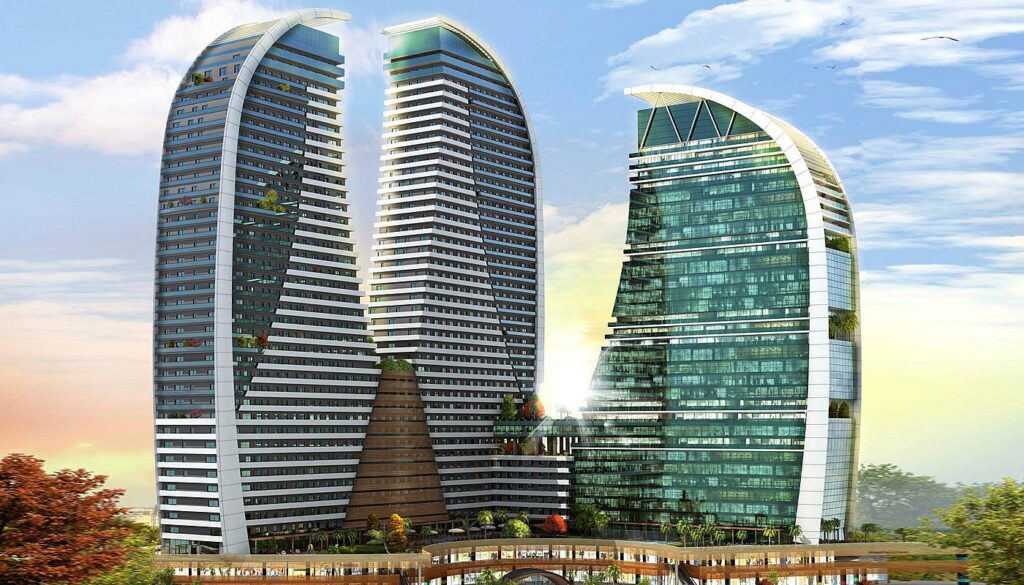 Searching for the best real estate property in Istanbul can be an interesting and exciting experience, but at the same time, it can also be quite confusing and exhausting. This isn't something you jump right into. You need a plan and a good one at that. A battle plan might even be better, especially now that more and more buyers and investors have their eyes on this enormous city. For this reason, you need to come prepared to ensure that you will find your dream property without any hurdles. Follow these tips to make your property-hunting easier, simpler, and stress-free. 
       1. Plan of the house
Some people prefer small kitchens and expansive living areas, and some prefer the exact opposite. Before anything, check the plan of the house to know if it suits your taste and style. You might also want to measure the spaces to ensure that these can accommodate the appliances and furniture pieces you plan to bring with you.
       2. View
Do you want a house with a view of the sea
or do you prefer something greener, like a lush park nearby? Take a tour around the property to determine if what you see is exactly what you hope for. Many home buyers often make the mistake of just viewing the house and not the view around it that often leaves them disappointed. 
       3. Age of the building
Most houses in Istanbul date back to many years ago, making them prized possessions of both their past and future owners. It wouldn't hurt to inquire about the age of the building or property. You need also to ask about the specific materials used. When buying a house, particularly that dream house you have always wanted, age makes a difference. Buying brand new homes and older ones have their perks and downsides. Make sure you know what you are signing up for before agreeing to an offer. 
       4. Smart home system
Among the most in-demand home features that many buyers have been looking for in potential properties to buy is none other than smart home technology. Smart home systems have had a big impact on today's real estate market. This modern technology can offer a lot of benefits to homeowners and finding a property that has one is a big plus. 
       5. Location (from the city center) and the neighborhood around the property
Take note that the property you will buy doesn't exist in a single bubble. This is a part of a bigger community you will soon exist in every single day. Having said, this, it is important to look for a neighborhood suitable to your needs. Would you like a sweet escape amid a secluded area that will give you the much needed peace of mind? Or do you prefer to have the sizzling energy of the hustles and bustles of the city center? Do you wish to get a cup of your favorite coffee every morning in a nearby café or would you rather stay away from potentially noisy neighbors? 
No matter what your heart desires, make sure you do your research first before you proceed with your search. Go on a drive and try to spend time in the area if possible. Take a stroll at the nearby park or dine at the local restaurants. Grab this chance to know if you feel comfortable in the area. 
       6. Building quality
Every time you buy an Istanbul property, it just makes sense to guarantee the construction quality of the building 🏗️. New technologies and materials have significantly improved the process of construction for the past several years. Inefficient construction systems can make structures more prone to safety and structural malfunctions. It can pose a danger not just to the inhabitants but even to the people who live within the immediate surroundings. 
Some defects may not be visible at all, and a layperson won't be able to determine whether the building is structurally sound or not. Your best option here is to hire an independent architect who can review the architectural and structural details of the building or property. 
       7. Building company reputation
Find out who built the property and check the track record of the company. The reputation of the building company is one of the most important things you have to look into before you settle for a specific property. The good news here is that you can ask this information for free from your interior designer.  
Benefits/Reasons to buy a property in Istanbul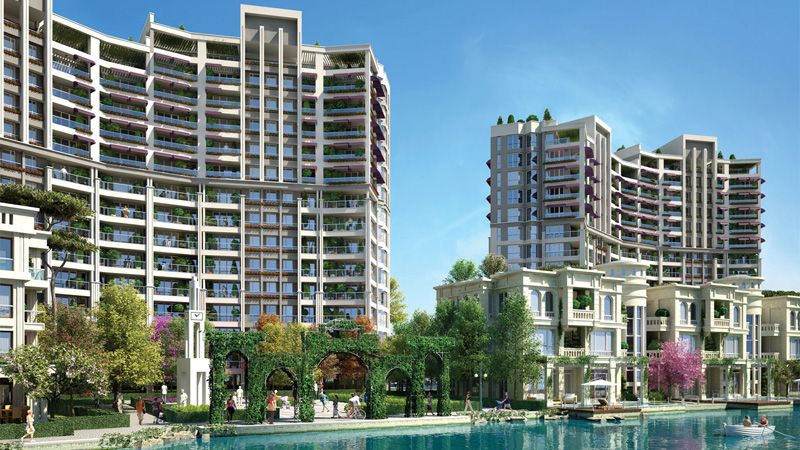 Buying a property in Istanbul opens doors to lots of exciting benefits to any buyer. Here are some of the top reasons to get an Istanbul property sooner than later:
Opportunity to obtain citizenship
This is probably one of the most popular reasons for purchasing a Turkish property because of the successful open market policy of the Turkish Government that encourages investors to settle in the country. After you buy the property and have registered it under your name, you will be eligible to obtain residency. 
Being the owner of a property in Turkey gives you more freedom when applying for residency, particularly if you plan to stay in the country for an extended period. If your goal is to use the property as your holiday home, your residency allows you to come and go as you please. If you plan to move to the country, a resident's permit lets you stay and gives you future opportunity to obtain citizenship. 
Here is our complete guide on how to get Turkish citizenship by property investment.
Fly everywhere – Istanbul is the bridge to Europe
Turkey is known for it's great, cheap, and reliable transport. There is a quick and easy access to numerous airports all year round. So, it will only take half an hour to get home in most locations. Istanbul is the world's only city that straddles two continents 🗺️. The public transportation is highly developed there and much cheaper if you have an Istanbulkart. You can buy it at confectionary kiosks on roadsides. Air travel is inexpensive and regular within Turkey as most airports provide international travel. 
Save and raise the capital
Although Istanbul has long been considered as among the world's major cities both in the ancient and modern times, this can still be considered as an infant as far as the real estate market is concerned. This is because of the lack of credit and financing, dismal economy, and substandard urban infrastructure. But, once the century turned, the government started to modernize the country's real estate market, bringing at par with other famous destinations around the world. 
As a result, buyers cash in while it is still young, and properties around Turkey have massive potential in terms of capital growth. We know that London is one of the premier cities of the world. The vision plan of Turkey for 2023 aims to boost Istanbul into a similar status that will give an edge to real estate investors. 
Enjoy living in your own summer house
Wouldn't it be great to live in a place where you will never have to worry of trying to dig your car out of a mountain of snow? Istanbul's weather is less hot compared to Arabic countries, and you can look forward to waking up to a cozy warmth and beautiful sunlight streaming through your windows. But of course, expect that the weather here will be perfect. Turkey also gets as much rain as other areas, and it can also get heavy rains. But, you can enjoy balmy temperatures all year round. Can you imagine spending your holiday season on the beach? 
You can also read about other top reasons to live in Istanbul.
Istanbul real estate investment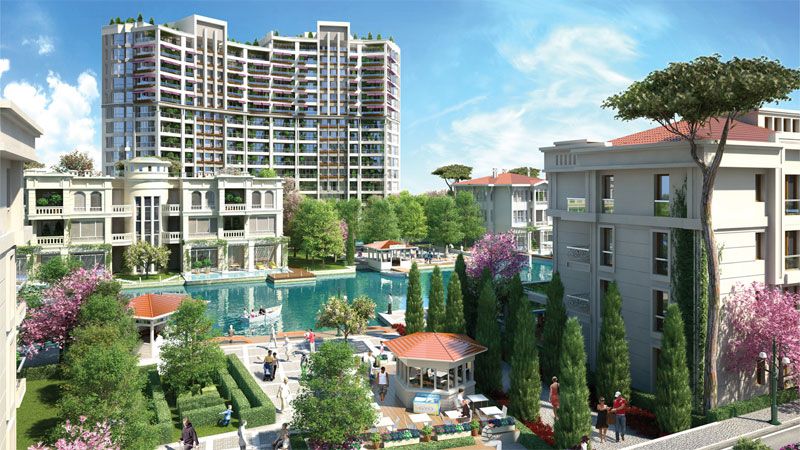 In ensuring that your Istanbul investments will give you good returns 
, there are several things you can do to make the most out of your money. Aside from your property's insurance, you can also insist that renters have an adequate insurance policy as a part of the lease or rental contract. Make sure you remind them that the policy wouldn't cover personal belongings. 
You also have to make sure that your renter is aware of what will be taken out of the deposit if damages occur to avoid conflicts once the rental period ends. Sadly, you still need to consider the costs of the usual wear and tear. 
The contract should clearly state if the rental will cover it or if it were taken out of the deposit. Set a time for returning the security deposit on the end of the lease. This time should be enough to inspect the apartment and note the damage and its cost. You should also know if the building has move-in charges. You have to be clear who will be responsible for such payments. 
Istanbul properties are now becoming more and more popular among investors all over the world. Don't waste any minute. Now is the perfect chance for you to start searching for that one property that will suit your taste, lifestyle, preference, and budget. And once you have found your dream property, get the help of the best interior designer to transform it into exactly how you hope and wish it to be!