The word modern is a subjective one, and so are the designs. Also, with the onslaught of many a millennial hankering about minimalist design and lifestyles, it can be a challenge to narrow down on a single model. Moreover, that is what this post aims to solve. We will discuss the modern bathroom ideas that will transform your bathroom into a practical and relaxing sanctuary.
1. Simplicity is the key 🛁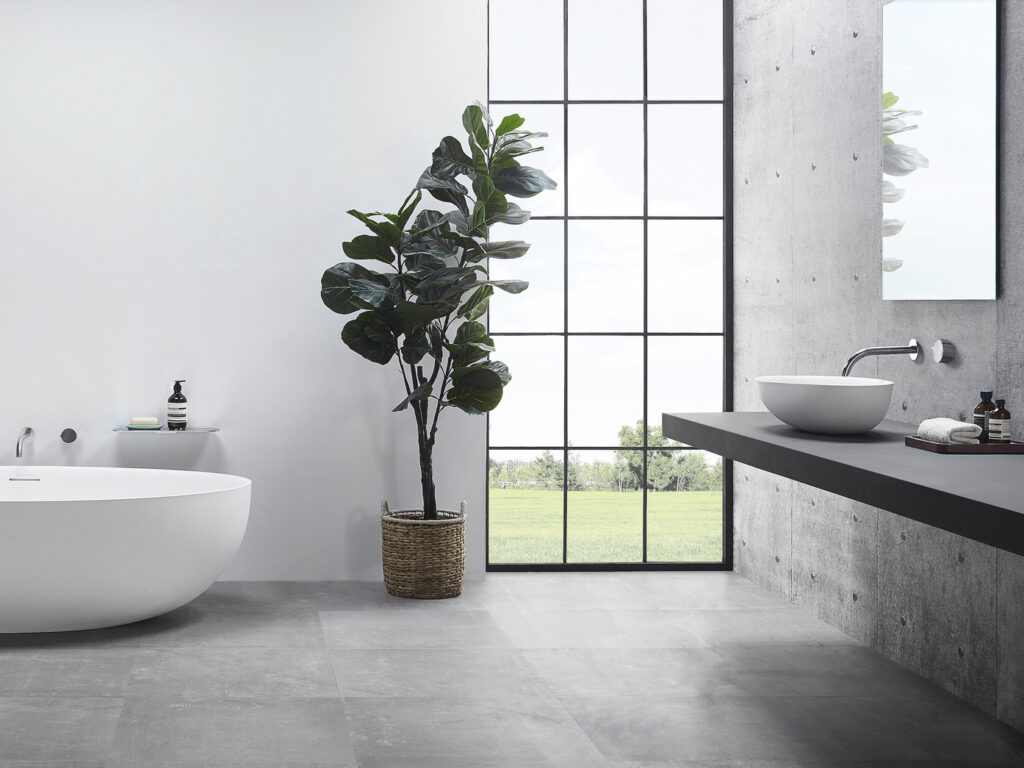 When it comes to modern bathroom designs, a simple, understated aesthetic is essential. Clean lines with minimal protrusions govern the contemporary bathroom. Geometric and symmetric shaped sinks and countertops are also an excellent option. Ostentatious architecture and colorful tiles are a thing of the past.
A modern bathroom is also clutter-free. Also, this is not the scheme with a minimalist bathroom. Everything from the design to the décor must be minimum.
2. It is all about the accessories 🚰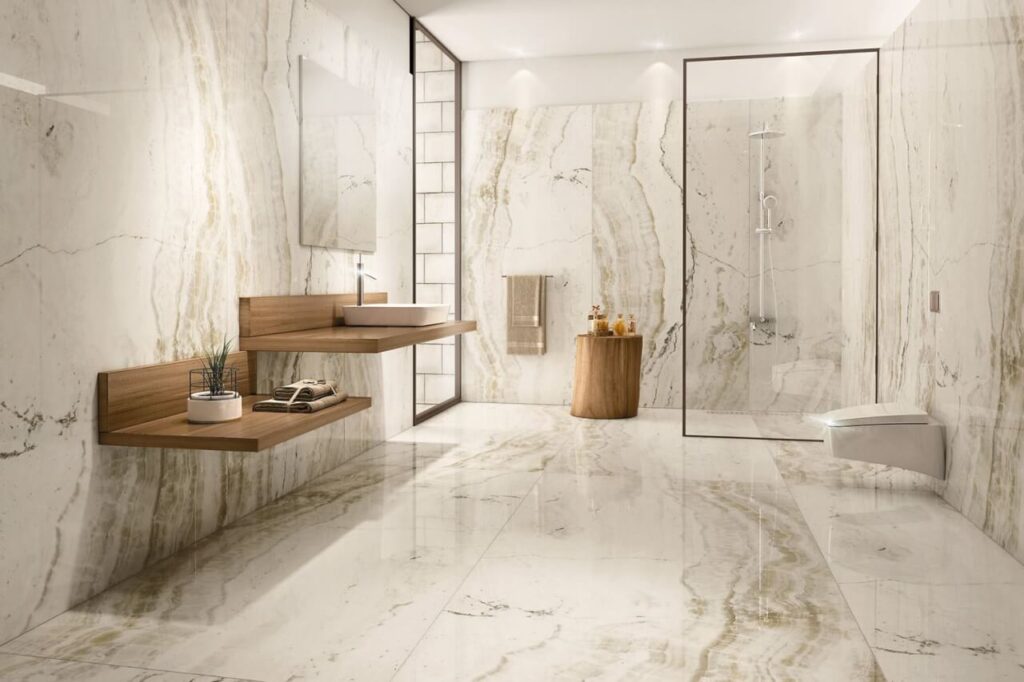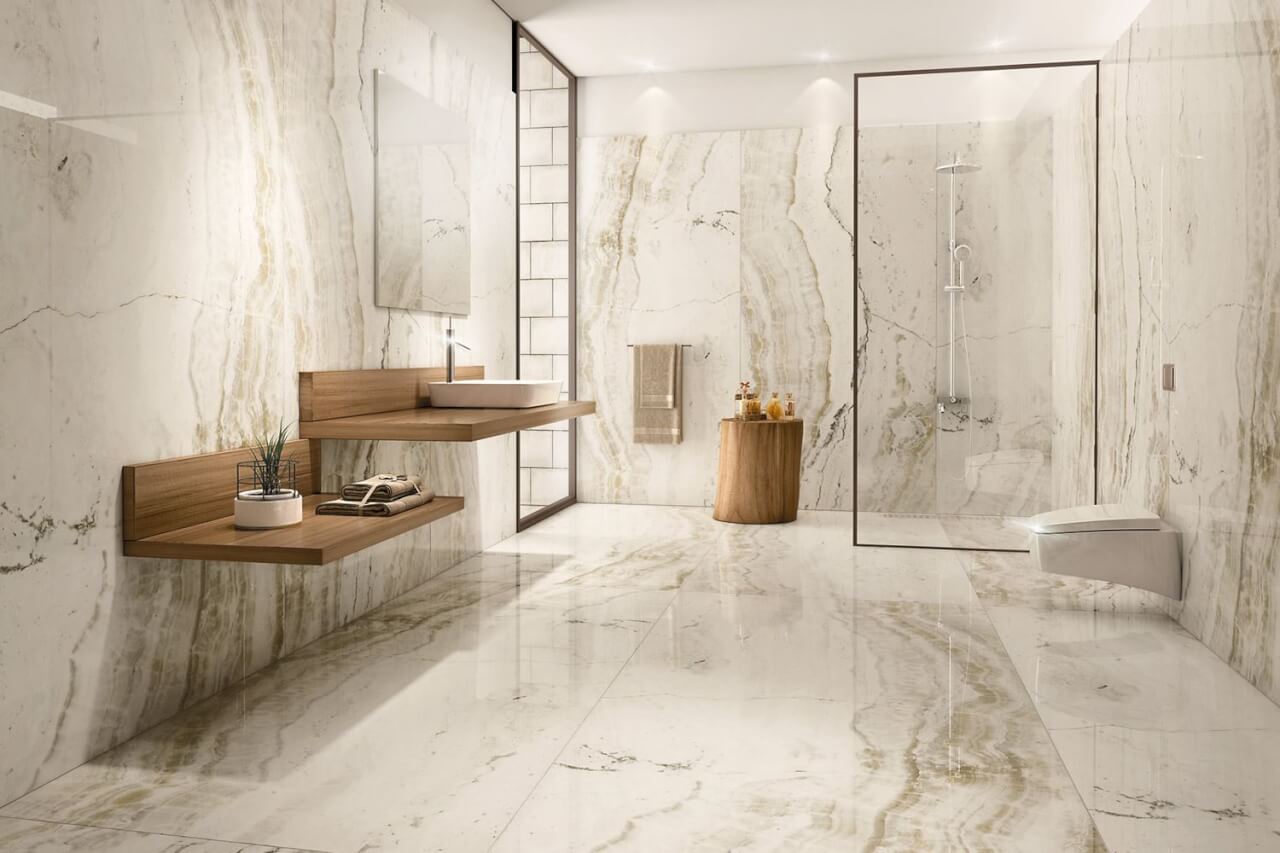 In a modern bathroom, the accessories and hardware take center stage. Whether it is in the form of personalized devices or all metal/wooden accessories in a marble bathroom, the choices are limitless. Consider adding these accessories to your bathroom:
A luxurious yet functional showerhead
There are showerheads which simulate the falling of raindrops, ones that emit different colored lights, different pressures of water, and so on. Dual shower heads are also a great addition.
Modern shower heads provide relaxation and pampering to the womenfolk while they provide shooting blast of water for the men in the family. Apart from the water pressure, the designs are incredibly sophisticated and glamorous to suit every taste and bathroom.
The rules of matching materials do not apply anymore to the modern bathroom. Wooden countertops and stools in marble or a concrete bathroom give it a personalized feel. Floating countertops add a futuristic look to the interiors while keeping its functionality.
There is nothing that screams luxury and relaxation louder than a bathtub. The modern bath goes way beyond the square or rectangular shape. Although there is nothing wrong with the traditional aesthetics, contemporary designs such as an oval-shaped tub, a transparent or a free-floating design give the bathroom a unique touch.
If the surrounding permits, try adding a glass wall. It is the perfect way to connect to nature while adding a whole new dimension to a bathroom. It is also a great way to add an illusion of space to a small area. It's definitely worth considering.
Another way to add space and character to a bathroom is by adding a floor to ceiling mirrors. This will immediately open up space while adding understated glamour to the bathroom.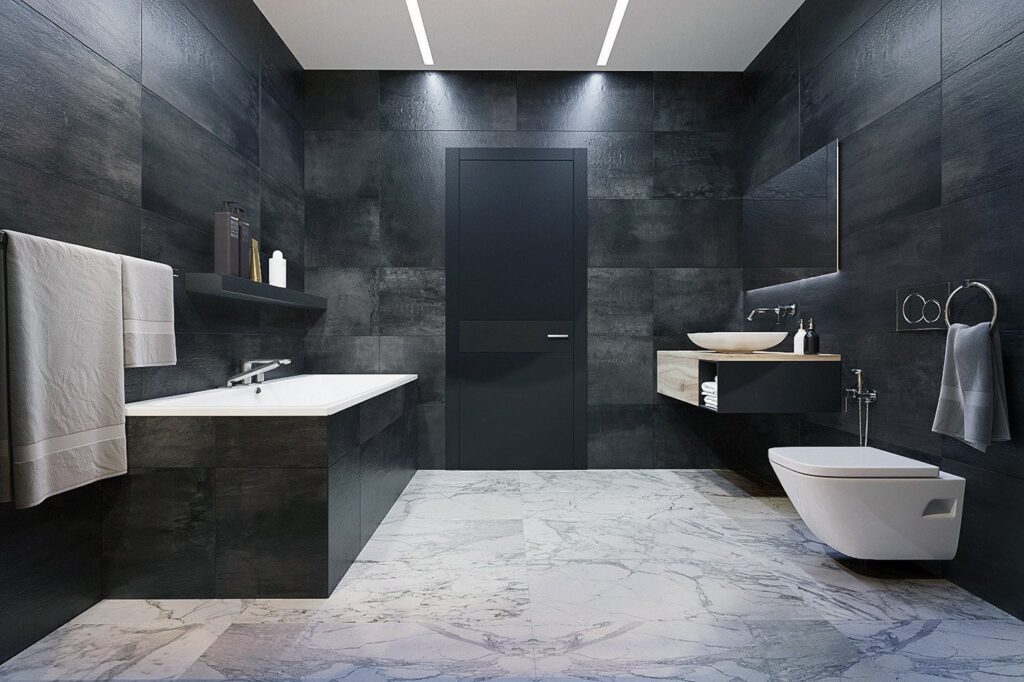 While considering an upgrade to a bathroom or a new one, neutral and muted colors are modern as well as a minimalist's dream. These colors have a way of adding sophistication to any area. White and gray are great colors that will lend an ultra-modern feeling to the bathroom.
4. Plants are not just for the living area 🌿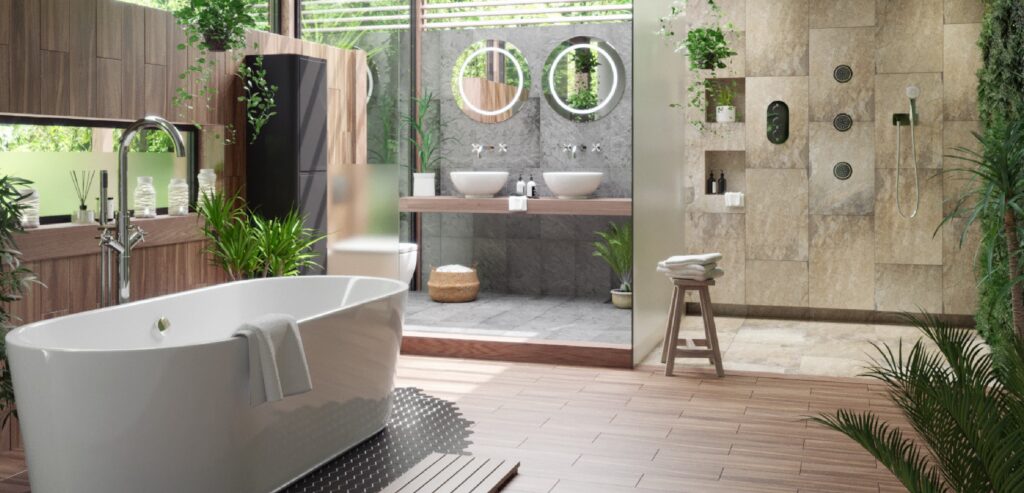 If you thought that indoor plants are to be put only in the living room, you couldn't be more wrong. Modern and contemporary bathrooms are all about being organic and natural designs. Adding a pot or two of your favorite plants can instantly create that connection between the outdoor elements with the indoors.
A selection of air plants, lucky bamboo, or even an orchid is an excellent choice. They can be placed in the corners, countertops, and entrances. Hanging plants can be placed on the walls or even on the shower heads. Plants and greens can transform an otherwise regular bathroom into a welcoming space.
5. Not your average shower 🚿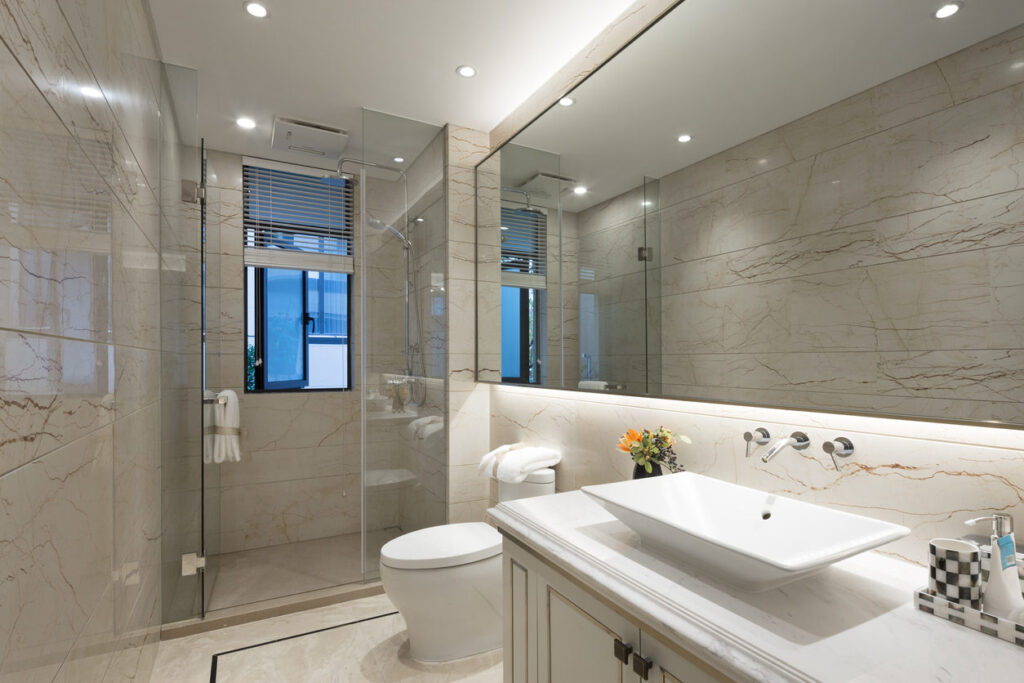 Apart from the bathtub, the shower is where the majority of the time is spent. Walk-in showers, skyline showers, and showers with open ceilings are just a few of the unconventional idea that can be incorporated into the modern bathroom.
These features keep the shower area separate from the rest of the bathroom. Not only do these add a personalized and fresh aesthetic to your private space. However, they also give you the spa experience every day at home.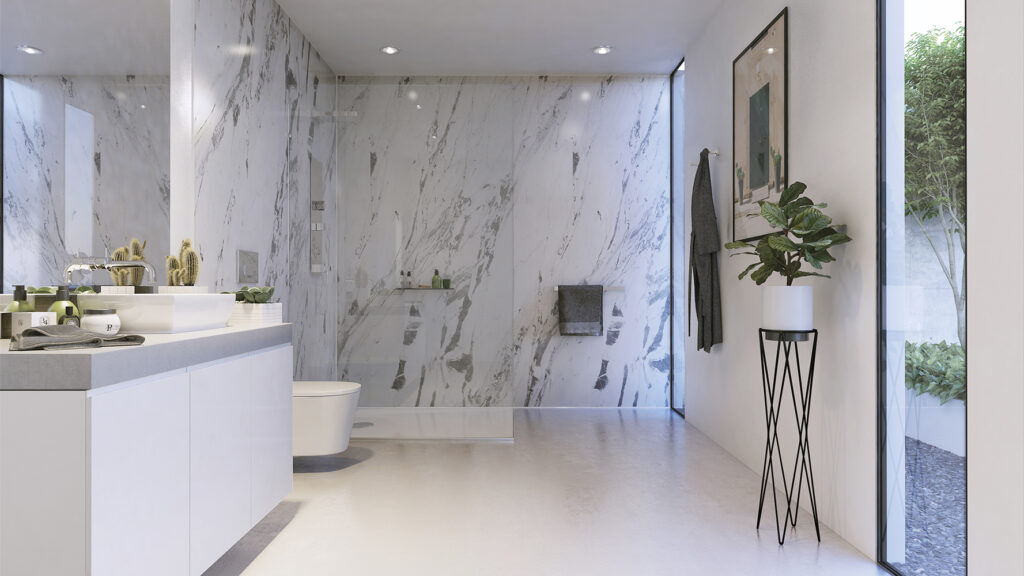 The lighting is creating the perfect ambiance in a modern bathroom. Experts reveal that there are four categories of light required to create the right atmosphere in the bathroom.
Task lighting – It is the light fixtures that illuminate your body and face. A light fixture between 50 watts to a 100 is most ideal for this purpose.
Ambient lighting – These fixtures provide the light that fills the bathroom. They work especially great in bathrooms of substantial sizes and those with tall ceilings.
Decorative lighting – They are primarily for aesthetic purposes as the name suggests. These lights unify the entire components in a bathroom for the ultra-modern feel.
Accent lighting – These are light fixtures for the ultimate modern luxury bathroom. If you have a unique mirror or like to put flowers in the bathroom, accent lighting can bring out the best in these elements.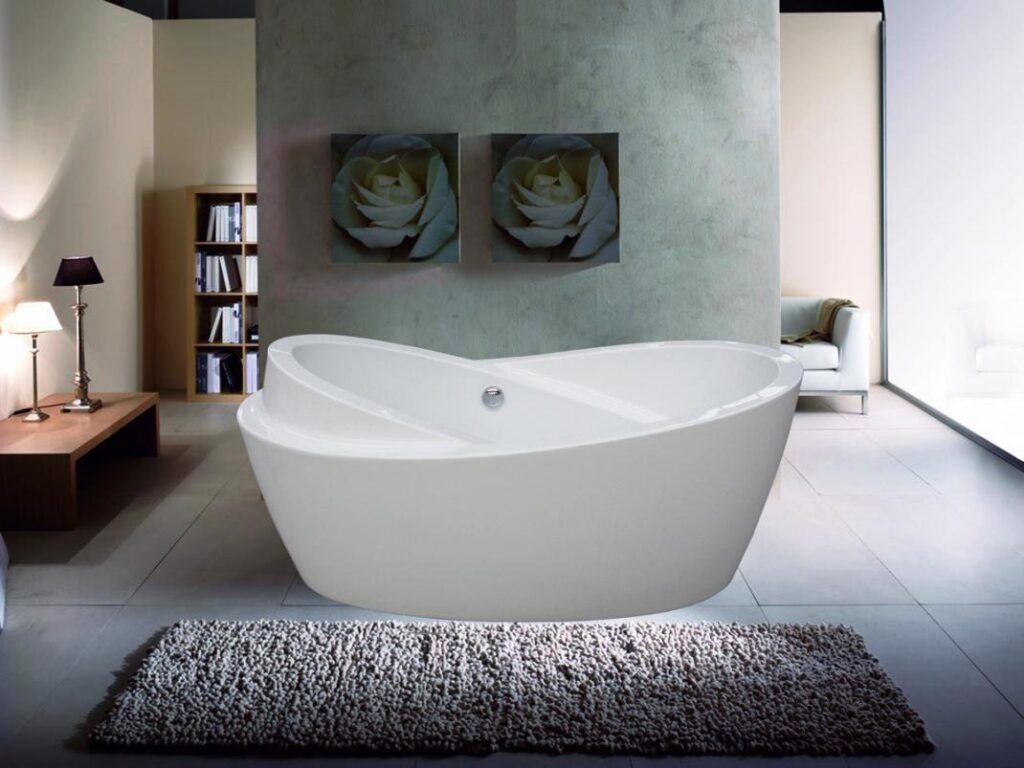 Whether in a bathroom or a living room, rugs have the inherent appeal of comfort and luxury. Consider adding a plush carpet to your bathroom. Apart from the aesthetic appeal, they also absorb the water and keep your feet snug and protected as you step out of a warm bath or a shower.
A microfiber rug or a cotton rug is best for the modern bathroom. You can also go for a bamboo mat for an eco-friendly alternative. A carpet that has non-slip properties will also add to its functionality.
A bathroom is more than a place where we clean our bodies and attend to our needs. It is a place of relaxation, calming our nerves and preparing our appearance for the best. The structure and the design is merely the skeleton.
Creating the right atmosphere with the right hardware, accessories, and elements are a must. A modern bathroom is simple, clean, organic, and individualistic. Our ideas and suggestions are not the ultimate as everyone has their own taste. However, these ideas are all essentials of the modern bathroom designs. So go ahead, take your pick and design the bathroom of your dreams with these ideas.