The living room speaks everything about your style of living in front of your guests. To help you in giving your living room an extraordinary appearance, we've come up with some fantastic modern design ideas. Let's take a look at them.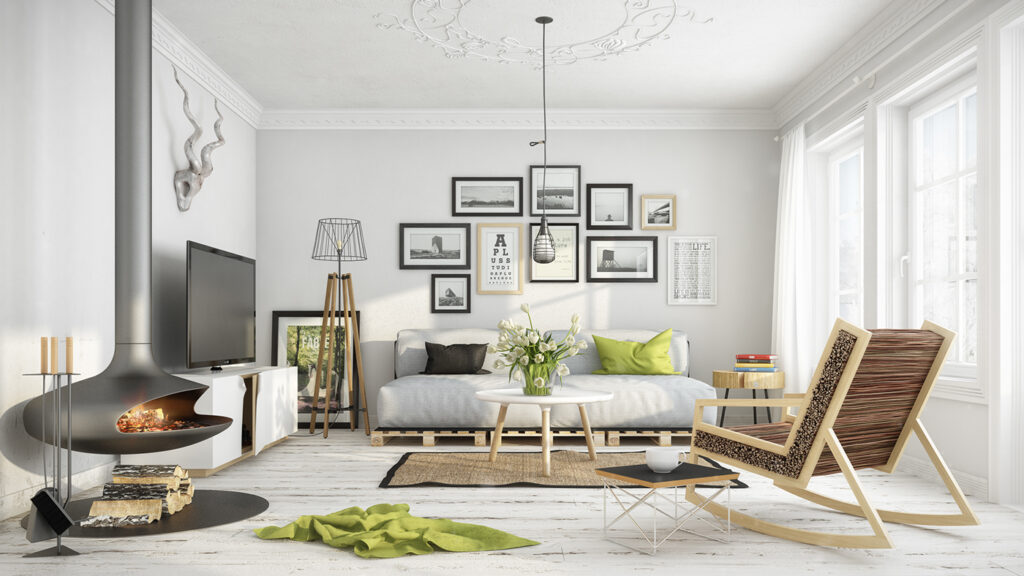 The distinctive feature of the Scandinavian style is white. Living room arranged in this way should be bright and full of light. The white color allows you to get the impression of warmth even on a cloudy day. It would help if you also chose a bright tone for the walls – preferably white or light gray. Of course, the furniture also should be off white – you can surely try to choose gray pillows for a white sofa.
Decorative materials referring to Scandinavia are also valuable (lanterns, candles, pictures). Ideally, they should be of warm white colors, along with a pastel shade.  You can use natural wood, and its color should be darker than the walls – this is how the Scandinavian style looks the best.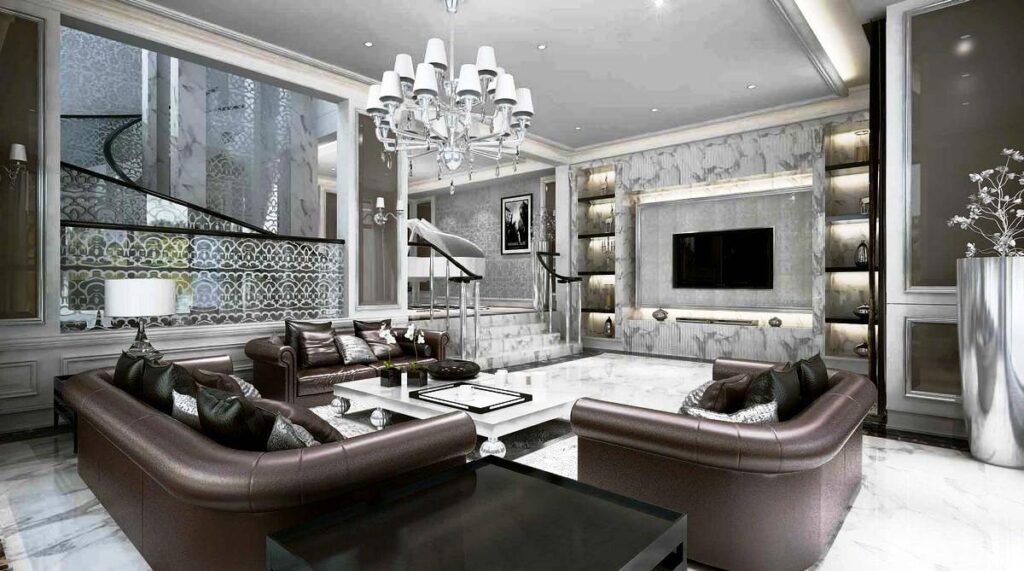 The interior in the style of glamor involves classic colors along with luxurious accessories. A living room in black and white colors looks great with stylish lamps. Try to introduce as much elegance as possible – you may pick up a silver chandelier or crystal decorations. 
You can line the floor with large, shiny tiles – it will undoubtedly enhance the feel. In glamorous style, it is essential to have massive quilted furniture, large sofas,  armchairs, and chairs. The cost of the decorations depends on the material of the additives you choose.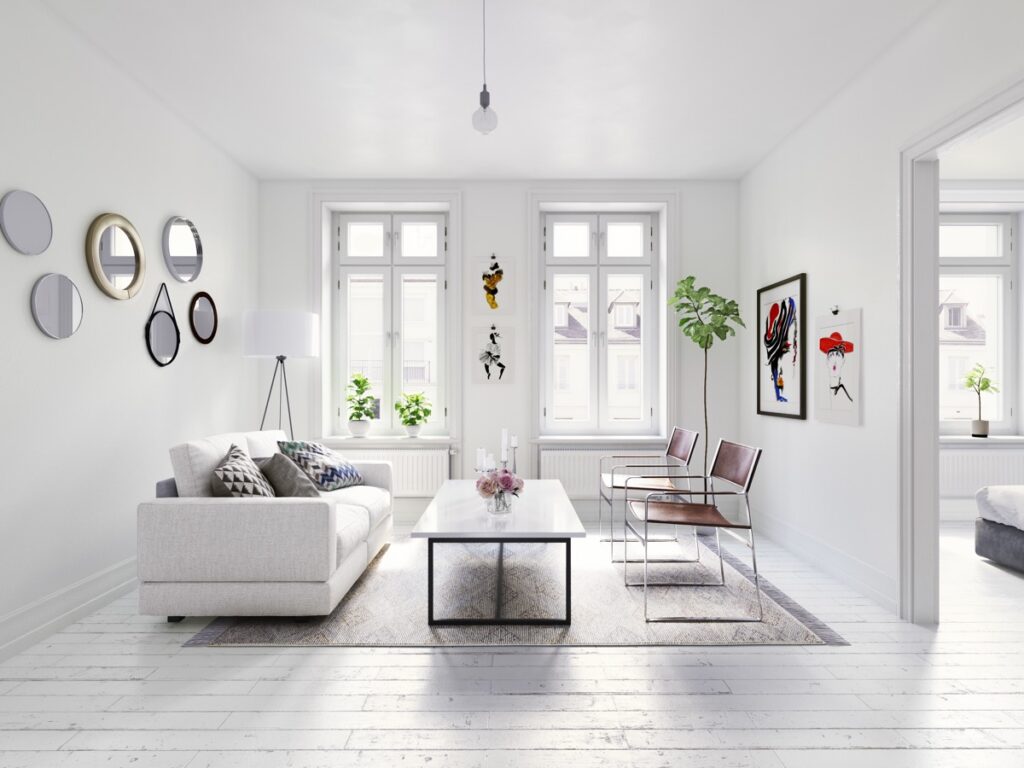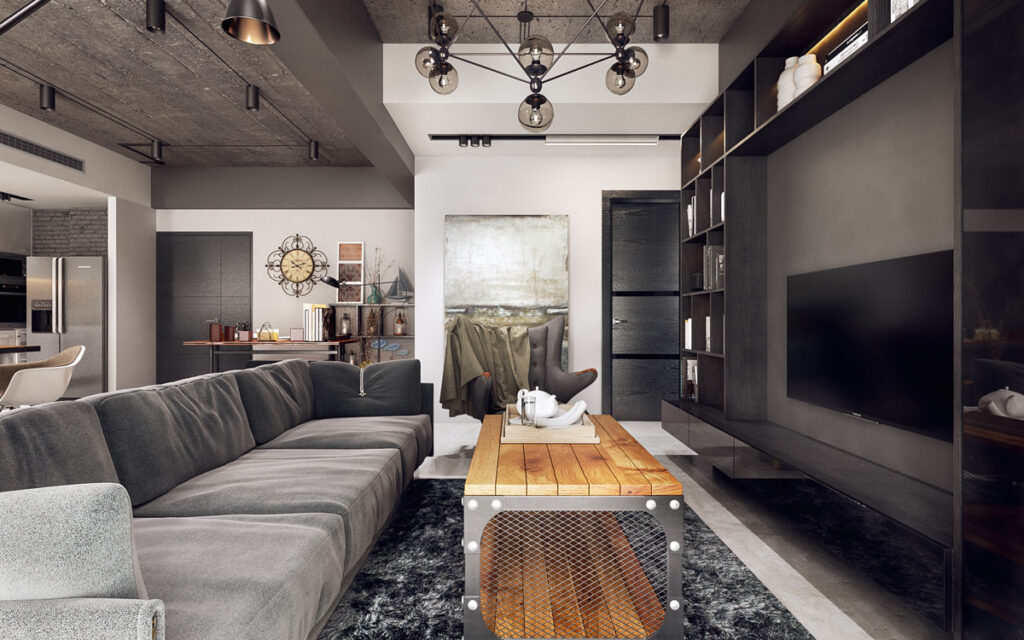 A modern living room shouldn't have divisions between a kitchen and a dining room. Avoid the walls, and preferably leave them without plaster. Industrialism is a reference to abandoned, post-industrial objects. 
Modern interior design also means adequate lighting! Be sure to buy such lamps that can provide sufficient light throughout the room.  They must be made of aluminum or metal, making them look durable and robust.
The industrial interior should be in the colors that make the room look larger than it is. Give it coolness and neutrality. You can use gray that can be accompanied by platinum or even red bricks.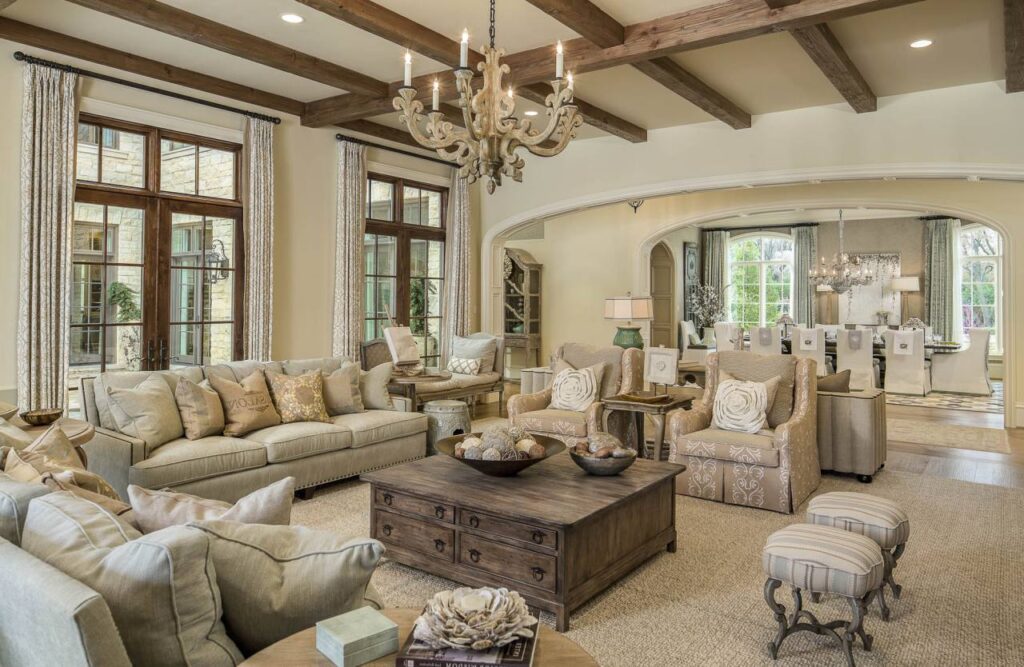 The interior design in provencal style should be on natural wood and white accessories – they can also be warm yet pastel colors. 
Provencal interiors are dedicated to lovers of natural climates, referring to life in the countryside. 
Furniture should be modest and straightforward – you can arrange lanterns or lavender and herbs! It is worth looking around for furniture with fancy fitting. Choose perfect colors and designing materials to add extra smoothness to the look. You can definitely opt out floral designs or jungle prints.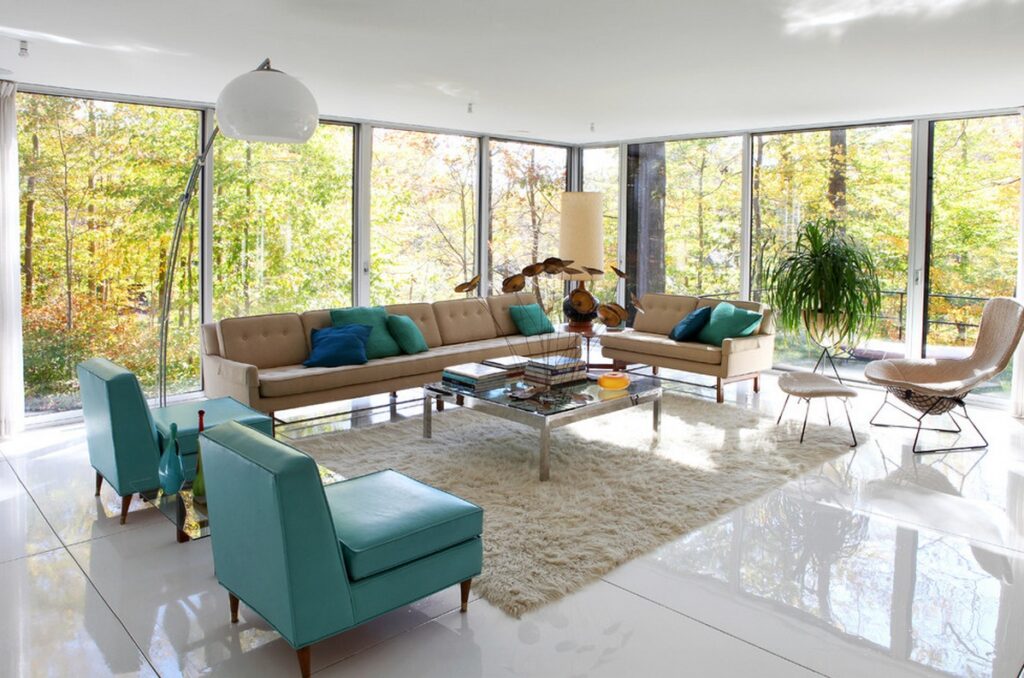 Retro furniture is not available "just like that" in any store – most often, you can find it out in auctions or flea markets. A perfect table, an old cuckoo clock or a stylish armchair will do a lot. Also, the cost of such an arrangement will be slightly inflated – especially if the interiors carry some antique value.
Try to arrange such a house "with your head" – you don't have to stylize your entire yard immediately. Just hang a stylish clock in the living room and decorate the hall with a mirror in a nut-veneer frame. Antique dressers, leather couches or bookshelves with old books will be perfect too.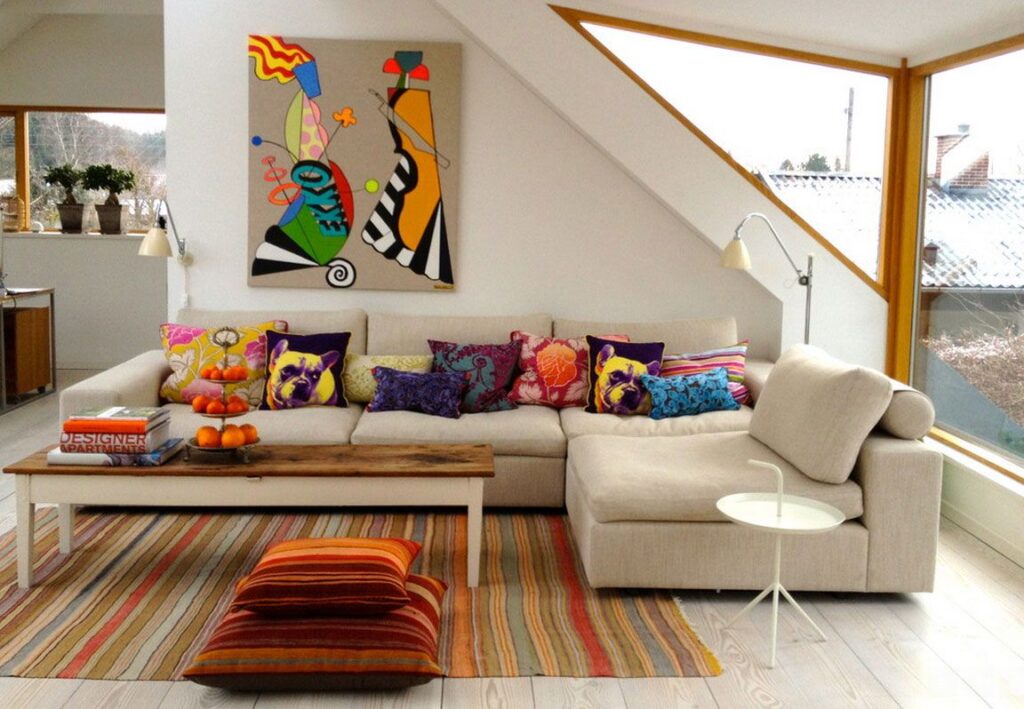 Arranging interiors in ethnic style is primarily about oriental patterns, natural wood, as well as original souvenirs. These are often importing from places around the world. Patterned rugs or colored fabrics hung on the walls of your living room wouldn't it look great? Decorative cushions and Moroccan patterns go the best with this style.  Ethnic style is all about the abundance of the room with accessories – figurines, sculptures, or decorative dishes.
Eco-Style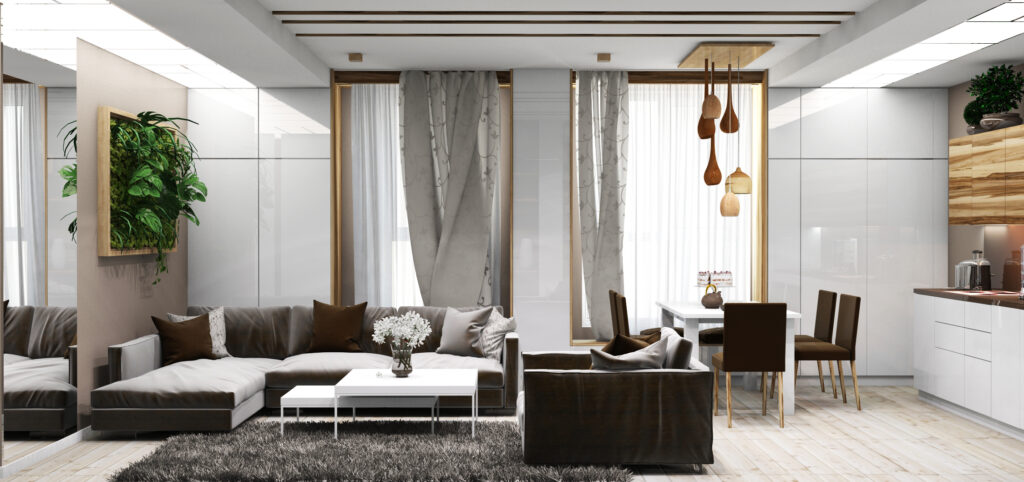 A modern living room stylized as "eco" is a gallery of natural materials. The most important is wood that you need to buy from the local market. In such an arrangement, surely there can't be varnished wood – only oiled, waxed or rubbed with ecological paint works will do. 
Rattan, bamboo, and wicker are some great options to decorate your living room in eco-style. Make sure that there are stone, ceramics, and glass – especially melted. Decorate the entire room with green plants, which will additionally emphasize the ecological character of the interior.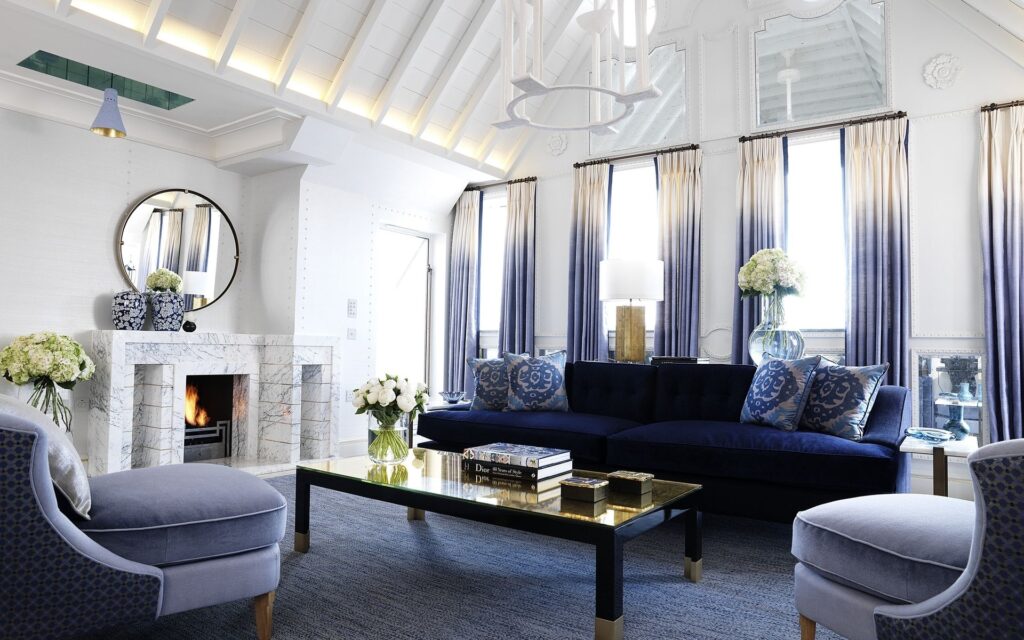 The perfect option for admirers of holidays! White, cream or gray walls will work great here. In the room, the sofa should be made of metal. Additives may have a turquoise shade that gives the feel of the color of the deep Pacific. 
Add curtains and pillows in white and navy blue stripes and go for decorating with thick, braided cords – just like a ship!
Nature lovers can complement the interior with a collection of stones or shells arranged in glass jars. You can also make lamps with them! They will look like nautical sculptures while fulfilling a practical and decorative function. Of course, the basis is decorative anchors, lighthouses, lifebuoys and colorful sailing boats.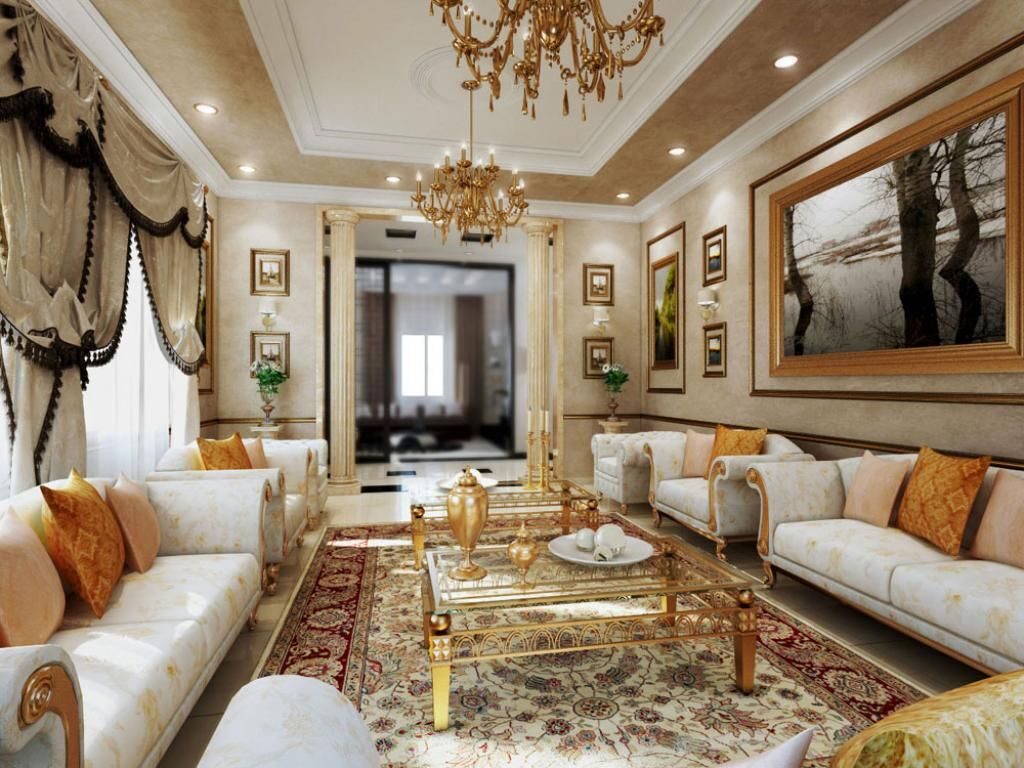 Victorian style living rooms look formal, and preferably, they should be dark in color. Heavy and upholstered furniture enhance the look of the décor. This is a traditional style of decorating your living room more appealingly.  Suitable tapestries will help in improving the feel of the royalty of this fantastic style.
I hope this post helps you to decorate your living room with these outstanding designs and enjoy the real essence of living.