In this article, we will cover innovative designs that made it to the top kitchen design trends 2019.
Without further ado let's get started.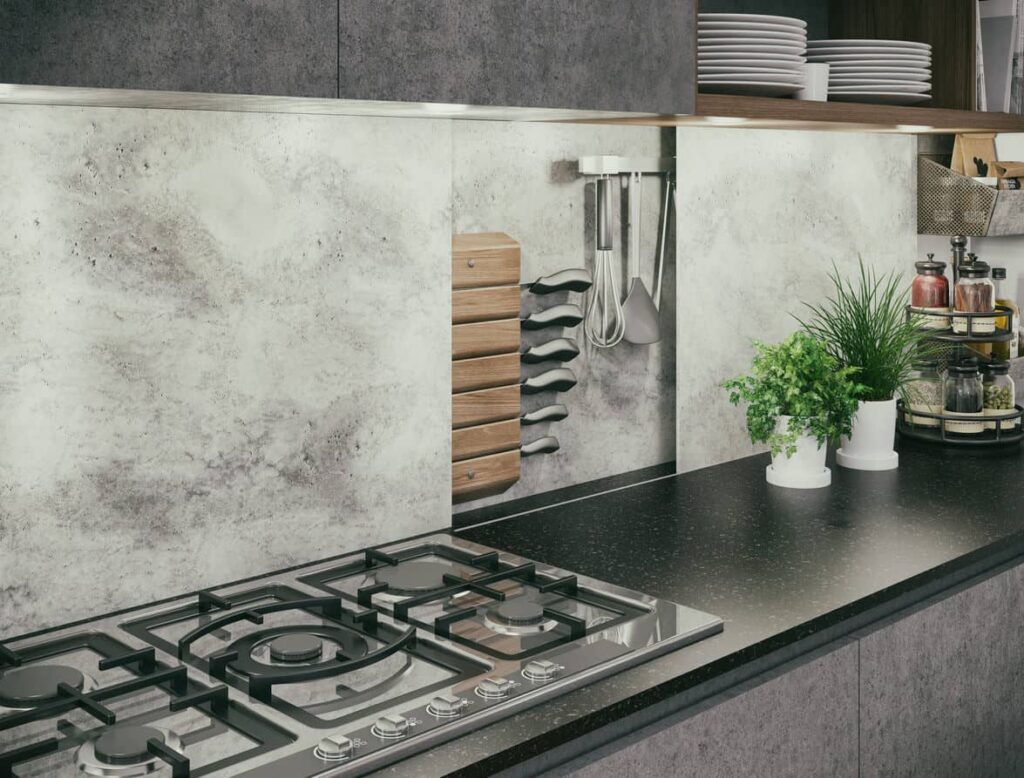 We have all grown accustomed to using large storage boxes built into our walls but they tend to make kitchens look suffocated. Concealed storage became quite popular in 2018 and the trend continues to grow in 2019 as well. Homeowners are looking for ways to make their kitchens look as streamlined and functional as possible. And concealed storage designs do just that. People keep asking what are the newest kitchen trends in 2019. Truth is, there is no better trend to adopt than concealed storage spaces. It is not just about style but also about functionality and that's what brings it up to the number one spot on our list.
2. Leather drawer handles 🩹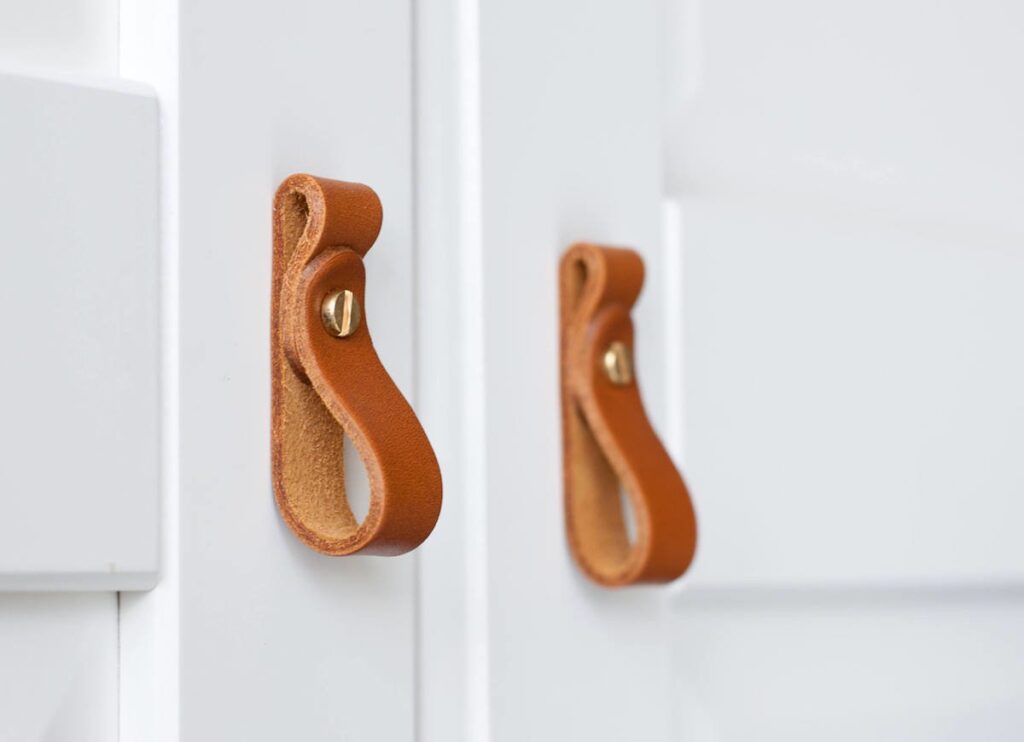 Going organic might be a trend seen in most kitchens but did you know it's not just about food? People not only want organic food on their tables but they also tend to have certain expectation from their furniture. People are less inclined to get chrome and nickel knobs for their kitchen drawers these days and are far keener on getting leather alternatives. Leather offers nice depth and warmth to storage spaces. Plus, considering the fact that you are using it in moderation, it is a subtle trend that is functional and affordable at the same time.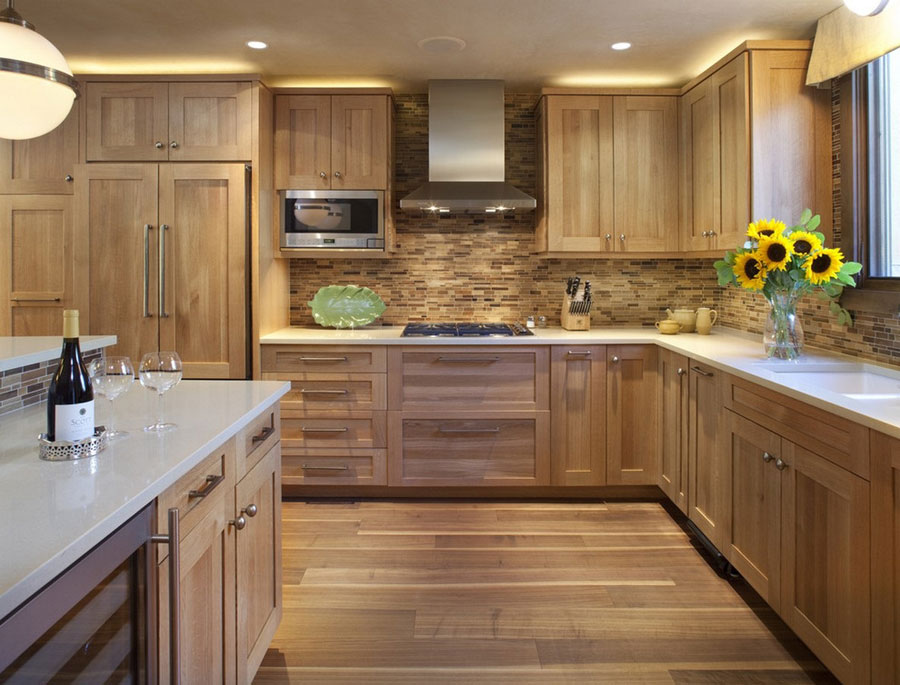 If you ask anyone about the most popular trends in kitchen spaces, the word classic will be mentioned a lot. Over the past few years, we were all trying to build futuristic kitchens with modern designs, but in 2019 people want to go back to classic designs that can also retain the functionality modern kitchen spaces offer. You want to have all the modern amenities as well as a touch of old-school charm. Instead of making your kitchen look like it's straight out of Star Trek, you want it to feel warm and welcoming.
4. Backsplashes are getting taller 🥛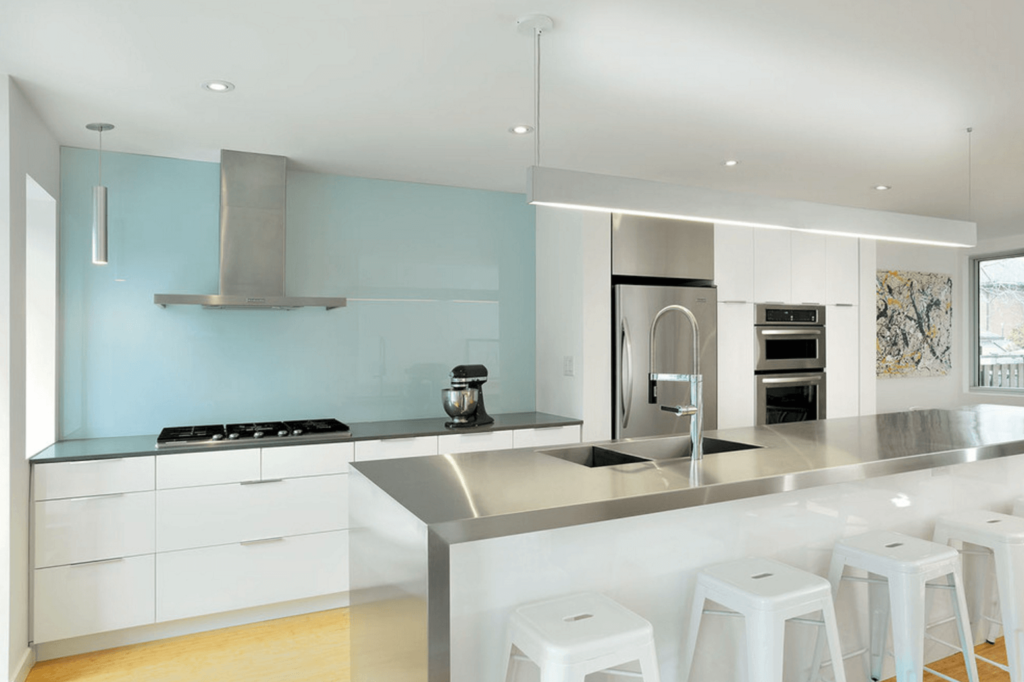 Backsplashes are getting taller and more luxurious than ever. It is one of the newest kitchen trends in 2019 you should definitely pick up. Irrespective of whether you want to have a wood top of classic veined marbles, having a taller backsplash in your kitchen makes things far more comfortable . Traditionally backsplashes have been too short which requires you to lean over while cooking. In short, taller backsplashes are just a necessity at this point.
5. Technology and food mix together 🥘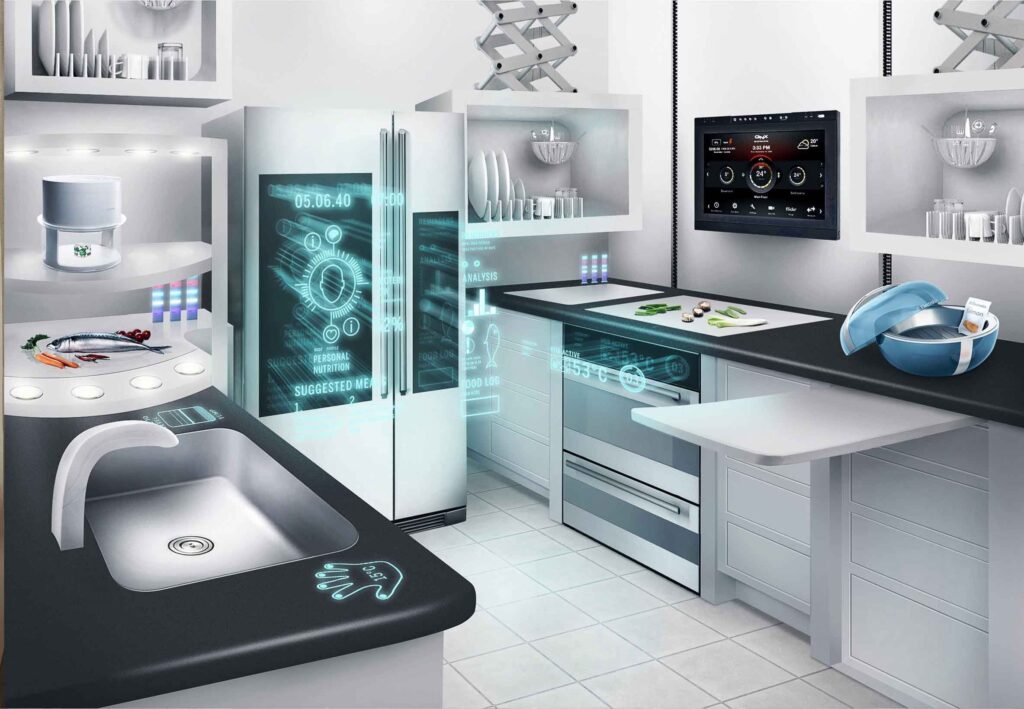 Technology is finding its way to kitchens faster than we had predicted. We are not talking about tried and tested appliances like microwaves and cooking ranges, but the new and innovative tech that has taken over the field. Digital espresso machines that send you notifications to your phone when your coffee is ready or wine fridges that allow you to monitor the temperature of your wine on-the-go are awesome inventions. The potential that new technology brings to the table is immense. And we can expect more appliances to adopt smart tech throughout 2019.
6. Lighting and fashion 💡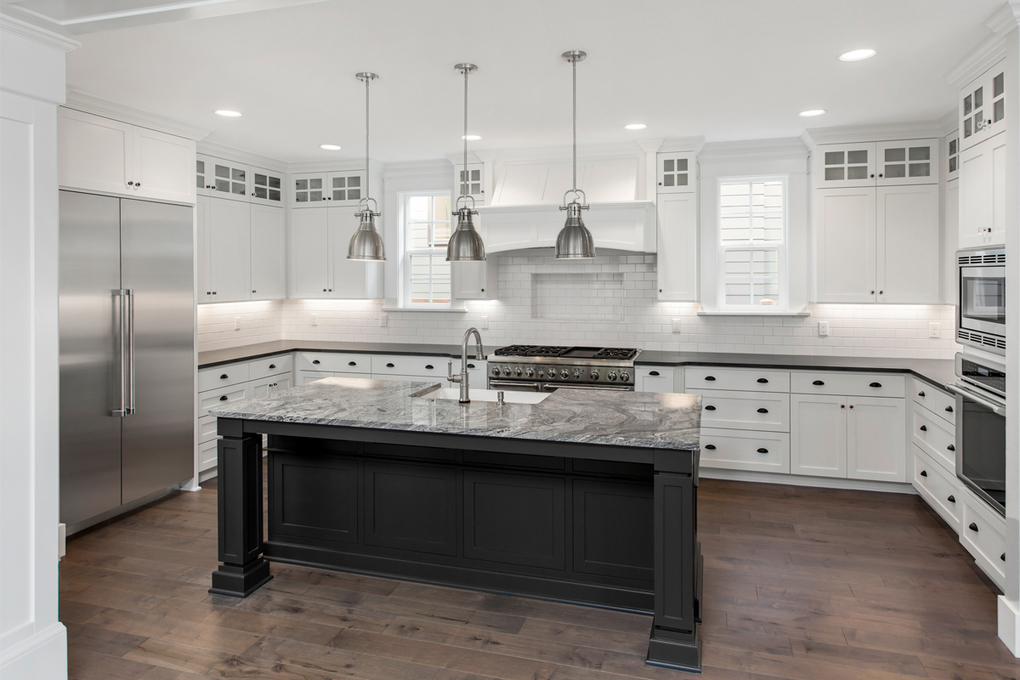 Jewelry is inspiring modern kitchen lighting to a great extent. For instance, pendant style lighting and sculptured fixtures are making it to modern kitchens throughout the world. If you want to spice up the decor of your kitchen you should definitely consider investing in some glass fixtures that add a premium feel to it.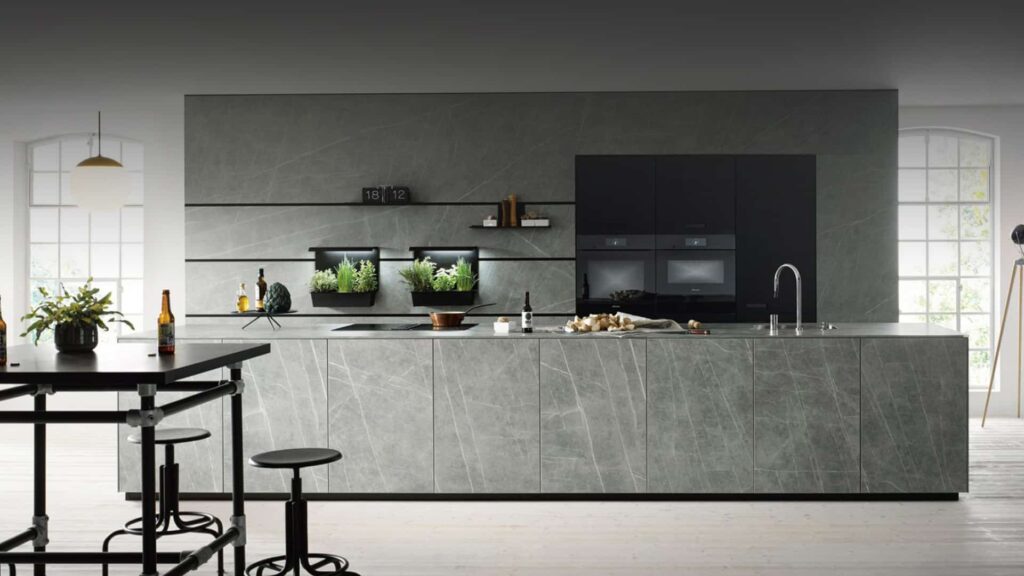 You do not want your appliances to stick out and take up too much space. Just like integrated storage spaces, appliances are also being installed to take the least amount of visible space possible. From microwaves to cooking ranges, you can conceal most of your appliances and leave only the functional front load areas open for convenient and space-efficient usage.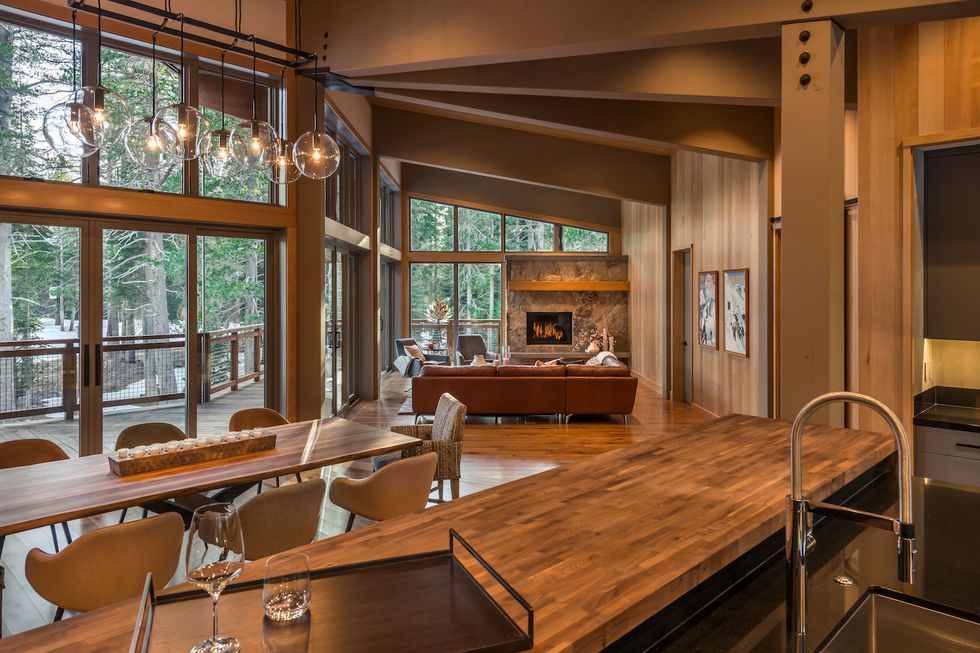 Although wood might have been phased out as the popular choice of kitchen furniture years ago, the humble material is slowly making a resurgence. With humans being living in a world surrounded by brick and mortar, our instincts to be as close to nature as possible remains as one of the driving factors behind wood becoming popular again. Wooden kitchens are timeless  masterpieces: you won't have to worry about revamping your kitchen every few years. And the best part is there are high-quality wooden furnitures available on the market today that do not harm the environment.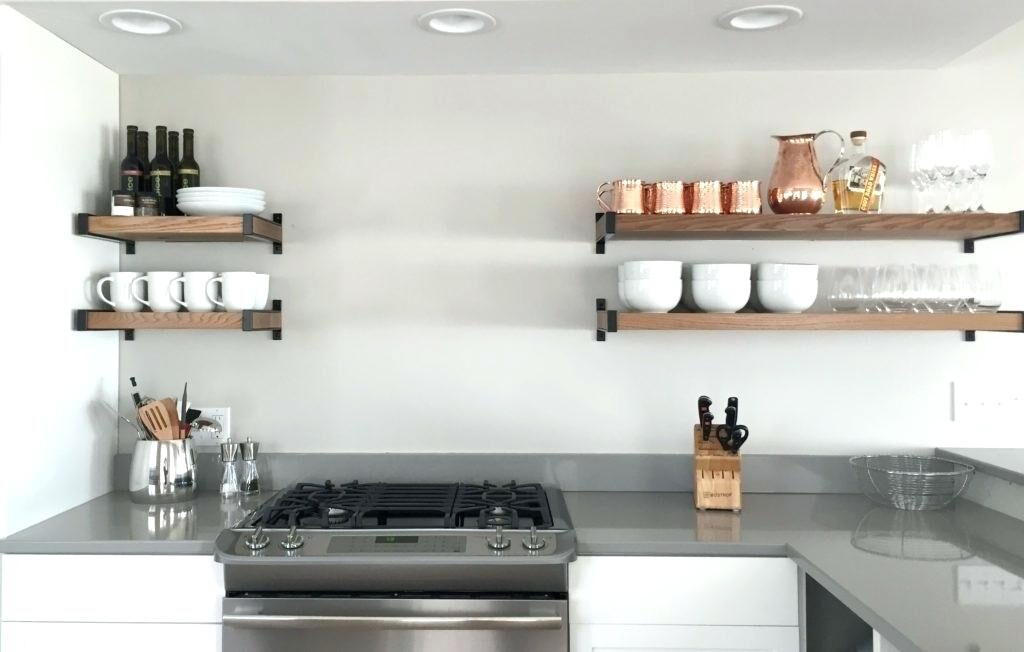 While a lot of us like keeping everything covered, use of open shelves is a trend that is slowly breaking the norms. While you should definitely not go for an open shelf design for all of your kitchen storage, you should definitely consider open shelves and storage units where you store colorful ingredients like spices. It helps add a bit of color to your kitchen which is always welcome. Minimalism never goes out of style and open shelves coming back in fashion proves exactly that.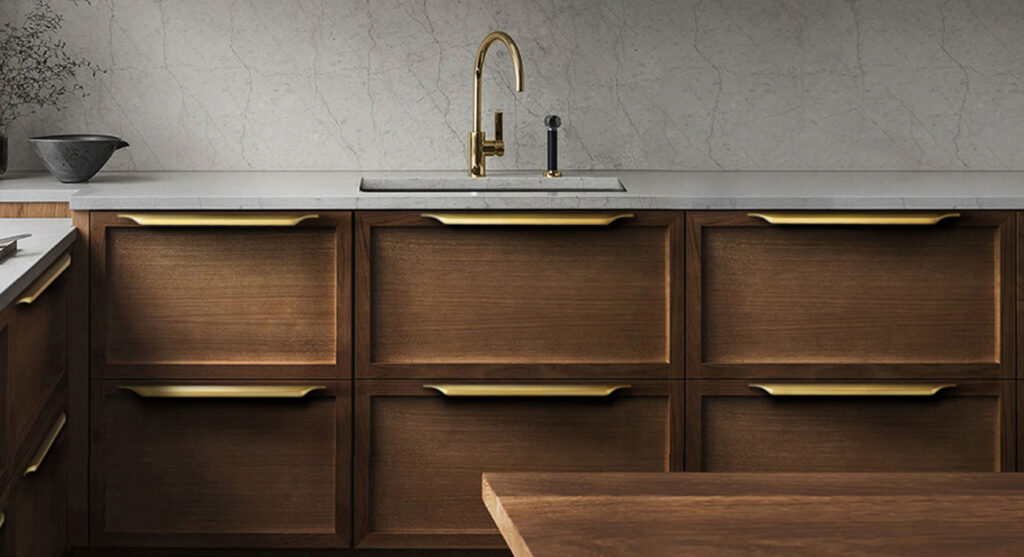 Want to add a rugged feel to your kitchen? We have the perfect solution for your needs. Pewter and gunmetal are making a comeback and it is one of the most popular kitchen trends of 2019. Unlike matte black which can be a bit too harsh pewter and gunmetal retain the classic texture as well as add depth the the overall kitchen decor.
Go out and explore some options before deciding on what you want to do with your own kitchen. In the end, it is all about your own style. If things go as planned, you might as well become one of the next trendsetters in the home interior scene with your individual design choices. And we will help you with that 🙂